EA Reveals Turn-Based Soccer Game With RPG-Like Special Moves
EA's next soccer game is going to be a bit different than most of its countless sports releases. That's because, unlike FIFA or Madden, its upcoming FC Tactical is a turn-based RPG-like soccer game featuring magical-seeming special moves. Weird, but intriguing!
The Week In Games: What's Coming Out Beyond Madden NFL 24
Announced on October 11, EA Sports's FC Tactical is a free-to-play soccer game for mobile devices launching in 2024. But to be clear: This new game isn't replacing FC Mobile 24 Soccer, the pre-existing EA soccer game on phones that plays like the console version. Instead, FC Tactical is something very different, described by EA in a press release as a turn-based game that will contain over 5,000 authentic players across 10 leagues, including Premier and Ligue 1.
According to EA, matches are "simulated, with turn-based opportunities" where players will choose to defend, attack, pull off "skill moves," or take shots at scoring a goal. Screenshots reveal an interface that looks a lot like other turn-based strategy games, just instead of tanks or fantasy warriors, there are soccer players in sports arenas.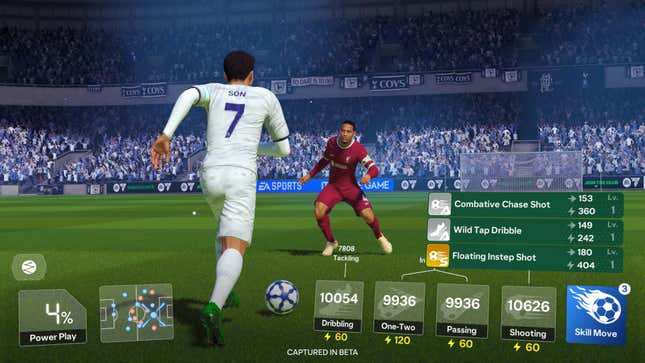 EA says FC Tactical will feature a variety of modes including online friend matches, ranked play, leagues, and guilds. Folks will have to "train players" to "master high-skill moves" or unlock specific traits. That sounds a lot like this is some weird soccer RPG, and things only get weirder when you look at some of the screenshots featured on the game's website and Google Play Store page.
Some of the images show soccer players pulling off what I would describe as special attacks, complete with magical-looking visual effects like flames and energy pulses. I don't expect any of these players are going to be summoning massive monsters to help them score a goal, but who knows?
EA Sport's FC Tactical launches next year. Players can pre-register via the Google Play Store or Apple App Store.