MSI MAG Z790 Tomahawk Max WiFi motherboard review
The latest in our series of Z790 refresh motherboard reviews is the MSI MAG Z790 Tomahawk Max WiFi. To use MSI's MAG nomenclature, Tomahawks sit in the middle of MSI's product stack, above the entry level gaming oriented MPG range and below the high end MEG range. It sits in the bang for your buck sweet spot if you will, with a strong core feature set aimed at gamers that are unwilling to spend big money on a motherboard. We've tended to rate MSI's Tomahawk motherboards highly in the past, and at $300 / £310 / AU$579 it offers good value.
Here's a surprise. The Tomahawk Max WiFi costs less than its predecessor did at the time of its launch. Apart from our exchange rate handicapped Aussie friends, that's less than the $319 / £337 / AU$569 of the non-Max MSI MAG Z790 Tomahawk WiFi. Straight away MSI has done gamers a service! Compared to its predecessor, the Tomahawk Max WiFi features native 14th Gen and faster memory support, PCIe 5.0 M.2, and additional SATA port and WiFi 7. That makes the Max a no brainer purchase.
Still, $300 isn't what you'd call cheap for a motherboard. The Tomahawk Max WiFi compares favorably to a board like the Asus TUF Gaming Z790-Pro WiFi at the same price. The MSI adds WiFi 7, PCIe 5.0 SSD support, a more powerful VRM, more SATA ports and a larger number of USB ports, however. Though the Asus does feature 30W power delivery to its 20Gbps USB header if that's important to you. However, The Tomahawk Max faces strong competition from below. The ASRock Z790 Riptide WiFi is an excellent choice for $50 less.
These Z790 refresh boards represent the best the LGA 1700 generation has to offer. In contrast to the teething issues common to Intel 600-series motherboards which introduced DDR5 memory and the complexities of the 12th Gen hybrid architecture, Z790 refresh boards tend to be highly mature offerings. They're more than last year's Z790 boards with a fresh coat of paint. Though you can update the BIOS of 600 and 700-series motherboards, a buyer new to the LGA 1700 platform should be looking at Z790 refresh boards for the best overall experience. 
But now, back to the motherboard itself. In my opinion the Tomahawk Max WiFi is one of the best-looking motherboards on the market. It's all black design with some subtle green highlights. I've never been a fan of designs with RGB lit logos that look more like billboard advertisements, so thanks for that MSI. 
MSI MAG Z790 Tomahawk Max WiFi overview and specs
The board itself doesn't include any RGB lighting, however, there are three ARGB headers and a single RGB header. There are eight fan headers too, so the Tomahawk Max WiFi will happily accommodate a system with RGB and watercooling.
The Tomahawk Max WiFi comes with a well balanced feature set. Its four memory slots support speeds of 7800MHz+. Dual rank modules are supported at 6600MHz+ while a full 192GB complement of four dual rank modules can run at 5600MHz+. That's a big upgrade over the support offered by first generation LGA 1700 boards and it's a good advertisement for the capabilities of 14th Gen processors.
MSI MAG Z790 Tomahawk Max WiFi specs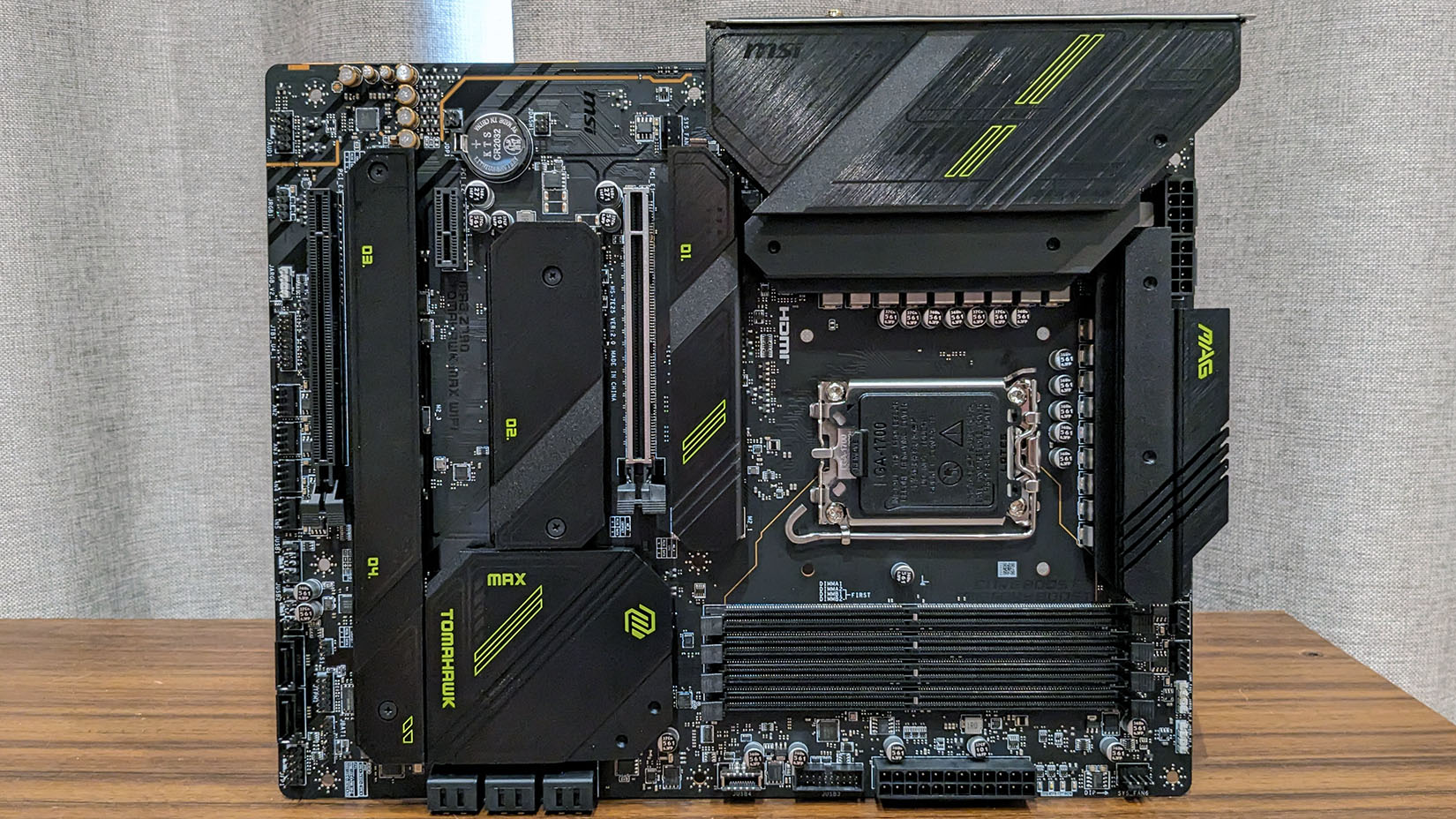 Socket: Intel LGA 1700
CPU compatibility: Intel 12th, 13th & 14th Gen desktop processors
Form factor: ATX
Memory support: DDR5-7800+(OC), up to 192GB
Storage: 4x M.2, 8x SATA
USB: Up 1x USB 3.2 Gen 2×2, 6x USB 3.2 Gen 2, 6x USB 3.1 Gen 1, 4x USB 2.0
Display: 1x DP 1.4, 1x HDMI 2.1
Networking: Intel 2.5G LAN, WiFi 7
Audio: Realtek ALC4080
Price: $300 / £310 / AU$579
The Tomahawk Max WiFi's storage spec is very good. It supports up to four M.2 drives, with the primary slot supporting PCIe 5.0 drives. The rest support PCIe 4.0. All are cooled by their own heatsinks. The primary slot is the only one of the four to be cooled by an easily detachable heatsink. The others are screwed in. However, the primary heatsink really lacks surface area compared to some boards. You'll need good airflow to keep a hot running Gen 5 SSD from throttling under sustained loads.
The four M.2 slots are joined by eight SATA ports. That's becoming a rarity at any price. Though the cheaper ASRock Z790 Riptide WiFi also has eight plus one more M.2 slot, the Tomahawk's storage potential is still very good.
The PCIe slot complement is around par, as M.2 slots take up PCB space that used to be reserved for expansion card slots. The primary PCIe slot supports Gen 5 speeds. It's joined by a PCIe 4.0 x16 slot (x4 electrical) and a PCIe 3.0 x1 slot. Both are positioned away from the primary slot allowing you to use them unhindered by a triple slot graphics card.
Now we come to the VRM, and it's excellent. MSI has traditionally overspec'd the VRM of its Tomahawk models, and that continues here. The 16+1+1 phase solution with 90A stages wouldn't have been out of place on a flagship board just a couple of years ago. This board could even power a liquid nitrogen cooled CPU, so us regular users won't face an issue even with an overclocked Core i9 14900K.
A strong VRM isn't of much use if the heatsinks are weak, and they aren't. Though they don't have the huge surface area of high end or finned designs, they functioned perfectly well in my testing.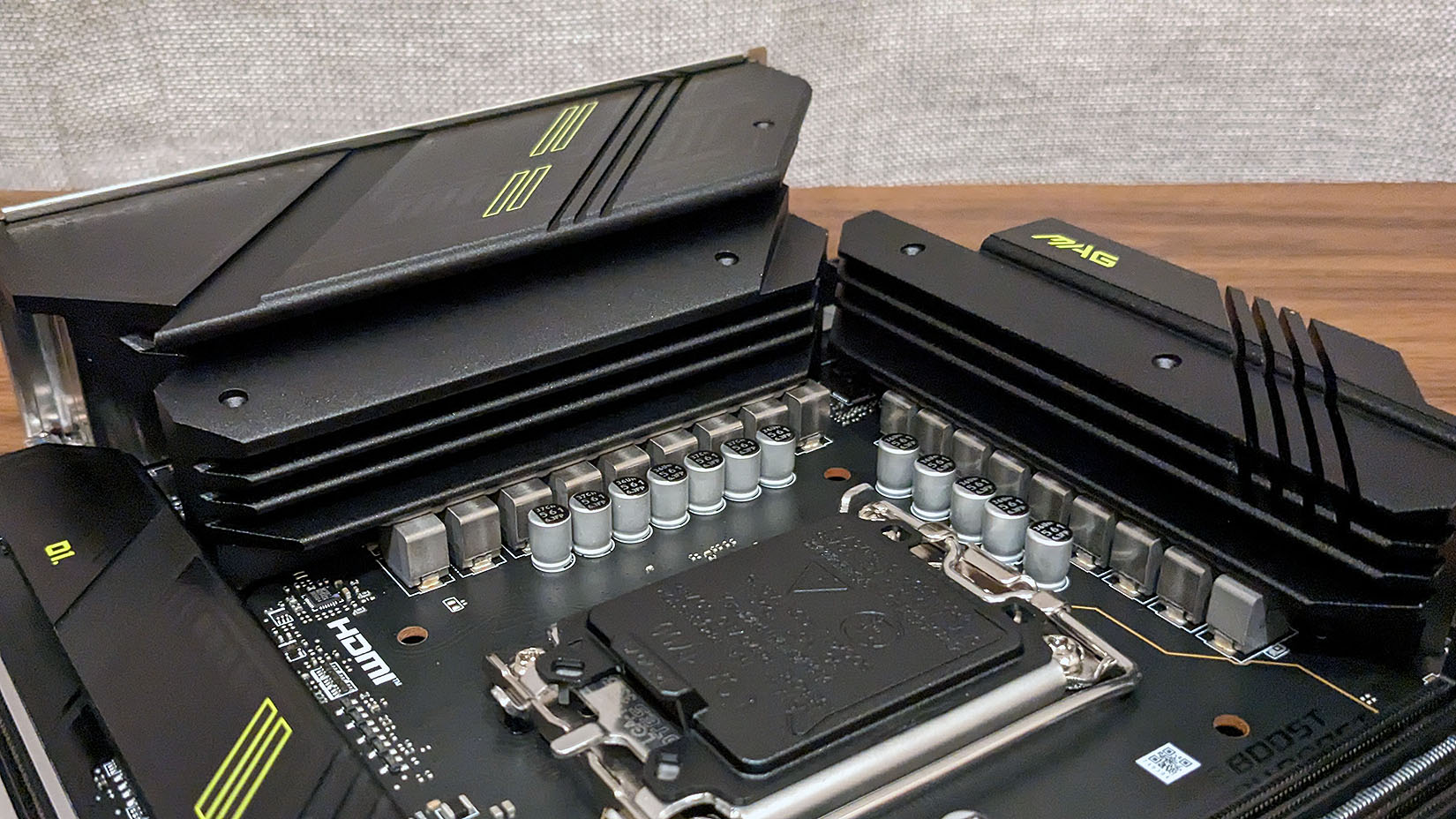 The rear I/O of the Tomahawk Max WiFi is a real highlight. There are a total of ten USB ports, made up of a single 20Gbps Type-C port, five 10Gbps ports (one of which is Type-C), plus four 5Gbps ports. MSI includes a CMOS clear and BIOS flashback buttons. You never know if you might need the latter to update the BIOS to add support for future non-K CPUs, or even a 14900KS.
You get a DP 1.4 port and HDMI 2.1 port. Though not relevant for gaming purposes, I like to see these ports included so you'll have options should you repurpose the system without the need for a discrete graphics card.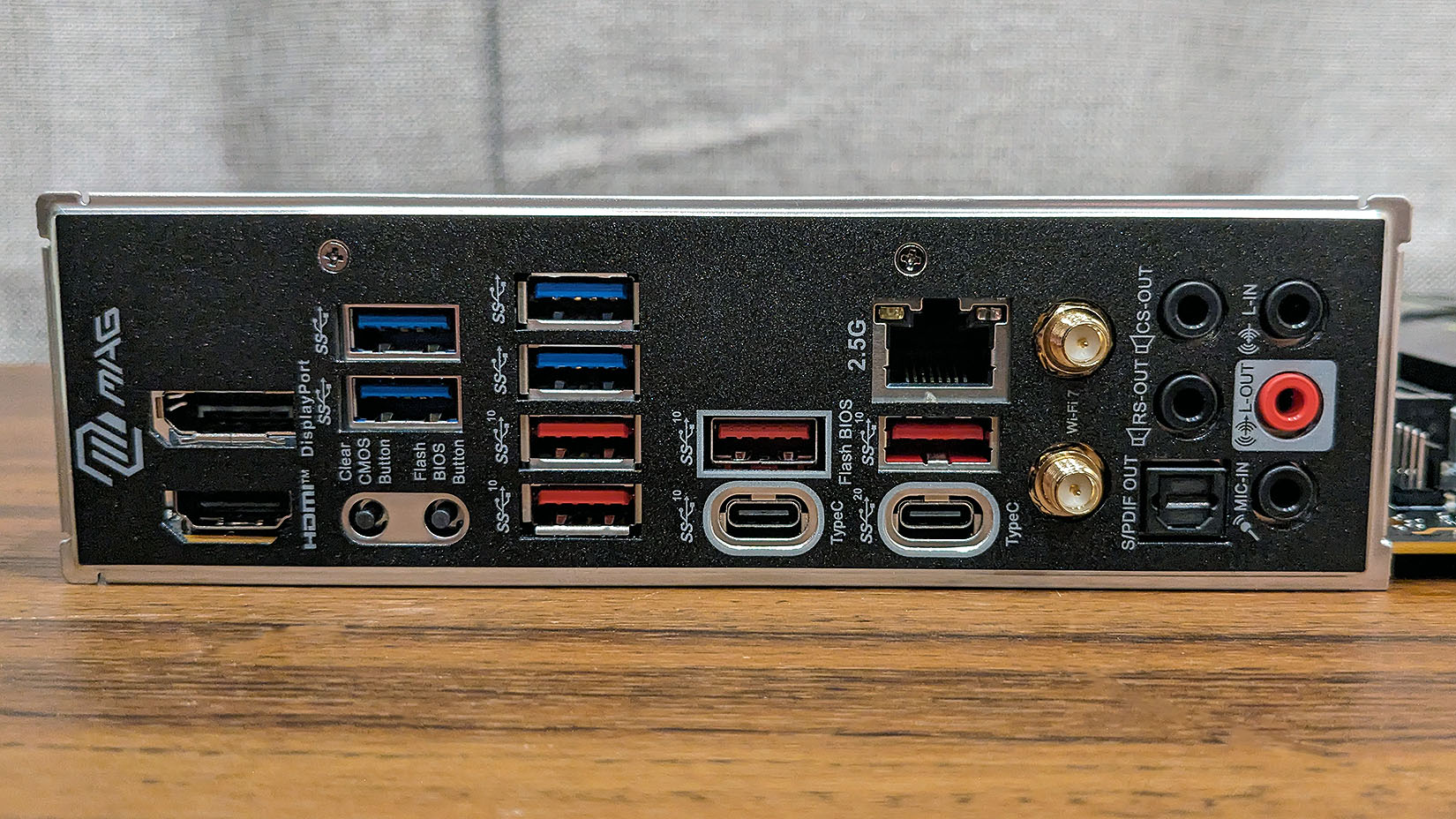 Most, but not all boards around this price incorporate WiFi 7. It's one of the highlights of this generation of motherboards. WiFi 7 is joined by Intel 2.5GbE.
MSI didn't resort to a cheap audio codec either. It includes Realtek ALC4080 audio with a complete set of analogue ports and S/PDIF. It's more about the implementation than the base codec, and to that end MSI equipped the Tomahawk Max WiFi with high quality capacitors and de-pop protection circuitry. It's tough to expect much more in this price range.
MSI MAG Z790 Tomahawk Max WiFi performance
System Performance
Gaming Performance
MSI MAG Z790 Tomahawk Max WiFi analysis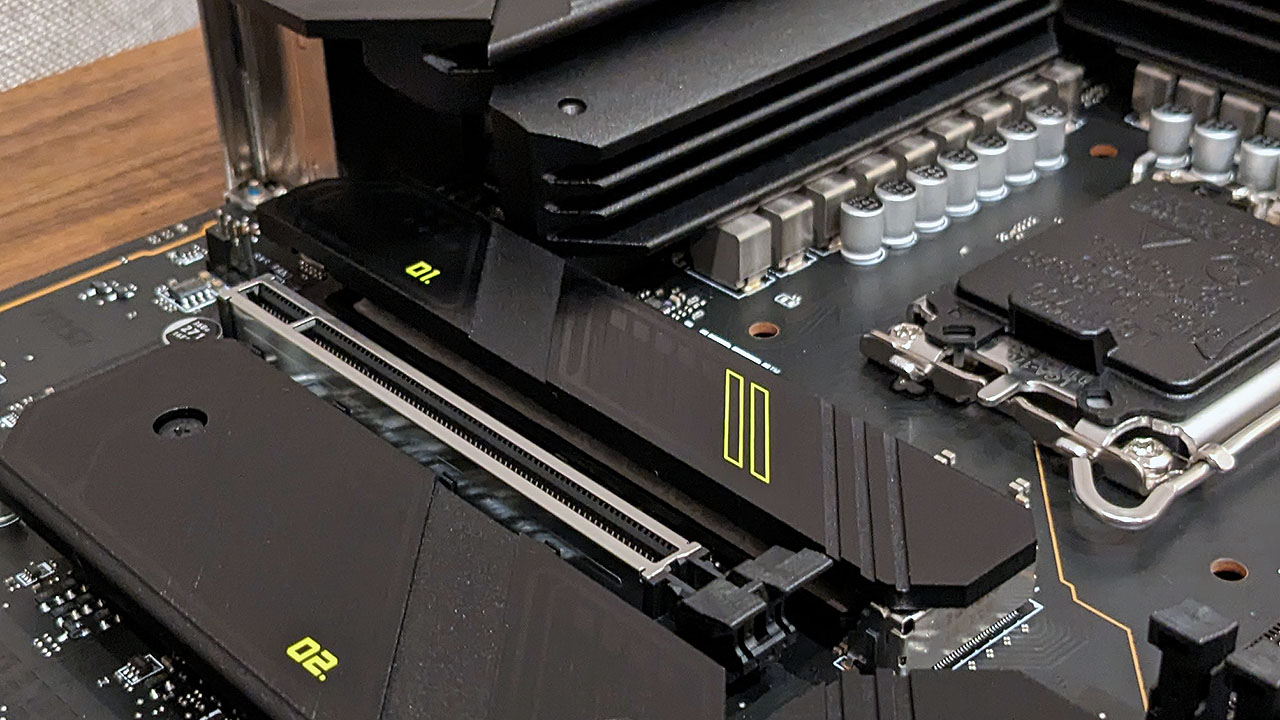 The Tomahawk Max WiFi is the fourth Z790 refresh board I've tested. I've been quite surprised at how similarly the boards perform to one another, even when they are left at their auto settings with a bit of a free-for-all when it comes to Intel's power limits and turbo ratios. But having said that, these are third generation boards. The underlying microcode and hybrid architecture are well known quantities at this point, and it's not surprising to see that the motherboard makes next to no difference compared to a CPU or GPU upgrade or downgrade.
In the system tests, the MSI threw up no surprises, though I did note it got the best result in the 3DMark storage test. 
Test rig
CPU: Intel Core i9 14900K
Graphics: Nvidia GeForce RTX 4090 Founders Edition
RAM: 2x 16GB G.Skill Trident Z5 DDR5-6000 C36
Storage: 2TB Seagate FireCuda 530
Cooling: Cooler Master PL360 Flux 360mm AIO
PSU: Corsair AX1000
A stable baseline is a good thing. If nothing else, a solid and reliable Z790 mid-range board like the Z790 Tomahawk Max Wifi showed that it'll happily mate with a high end combination like an i9 14900K and RTX 4090, even though such a combination will be rare in the real world.
Now its time for my usual memory test. As has been the case across my testing, I was able to hit DDR5-8000 but moving past that required unreasonable levels of IMC voltage. Soon I'll be getting my hands on a Teamgroup DDR5-8200 kit, and that's something that will require a capable BIOS to run properly. If at all!
MSI's BIOS has changed little since the introduction of its first UEFI, and why should it? The basic settings are easy to find, while it's advanced mode contains well labeled and easy to navigate sub-menus. Is it overdue for a new skin or a layout change? Maybe, but my thinking with BIOS layouts is simple. If it ain't broke, don't fix it.
MSI MAG Z790 Tomahawk Max WiFi verdict
Buy if…
✅You want support for lot of storage. The Z790 Tomahawk Max WiFi includes four M.2 slots and eight SATA ports, so if you've got a lot of drives, it's one of few to offer that much capacity.
✅ You're looking for an affordable board for a high power CPU. The Tomahawk Max will easily handle a 14900K, which means it'll handle anything. Not all boards around $300 are as well suited to flagship CPUs.
Don't buy if…
❌ You already have a Z690 or Z790 board. If you've already got a previous generation LGA 1700 board, you're probably better off updating its BIOS and going 14th Gen with that.
The MSI Z790 Tomahawk Max WiFi is an excellent offering with a high quality set of features that make it a very competitive offering in its price range. MSI deserves credit for not pushing the price of the Max version above its non-Max predecessor. That's a pretty rare thing for any product in today's inflation hit economy, so well done MSI.
A typical gamer needs to ask themselves what they value most in a motherboard. As the performance differences between third generation motherboards mostly falls within a margin of error, your choice will come down to features, aesthetics and if you're so inclined, brand loyalty. If features are at the top of your list, then the inclusion of WiFi 7, 4x M.2 plus 8x SATA, a high quality VRM capable of powering anything from the 12th, 13th and 14th Generations, and rear mounted USB 20Gbps port should all rate highly.
Looks are always in the eye of the beholder, but I love the understated look of the Tomahawk Max. Its splashes of green and the absence of retina scalding RGB branding and logos is pleasing to me. You be the judge if that's important to you. You can still add RGB to your rig, but this way you can do it in a style of your own without having MSI or Aorus or ROG advertisements in your face. Minimalism is not a common trait among motherboard makers. Though MSI, particularly with its Unify range, leads the way.
The main problem for the Tomahawk Max is not from above, but below. The ASRock Z790 Riptide WiFi includes a similar feature set, but for $50 less. If the MSI included a front 20Gbps header, perhaps with high power delivery support, then it might have taken out our top gong. Still, its superior rear I/O and VRM make it a highly appealing offering.
Considering its spec list, minimalistic good looks and high quality VRM, its a board that should definitely be on your shortlist in the $300 range. It's the kind of solid and mature board that will happily sit at the heart of a rig made up of mid range to ultra high end components, and look good while doing it.