This Last of Us Clicker Bread Sculpture Is Scary As Hell
A bakery in San Francisco constructed a sculpture of a Last of Us Clicker, one of the series' menacing, mushroom-infested zombies, out of bread. And it looks pretty darn scary.
The Last of Us's Lamar Johnson On Learning Sign Language For The Show
The life-size Clicker sculpture, whose official name is "The Last of Crust," was made by One House Bakery, a mother-daughter shop. In an interview with Eater San Francisco, owners Catherine and Hannalee Pervan revealed that they fell in love with HBO's Last of Us TV show and decided to try their hand at making a sculpture of the infected enemy for the 16th annual Downtown Benicia Main Street Scarecrow Contest.
"And let's be honest, we also fell in love with Pedro Pascal," Hannalee told Eater San Francisco.
Get in line, Pervans. We all love that man. But anyway, back to bread.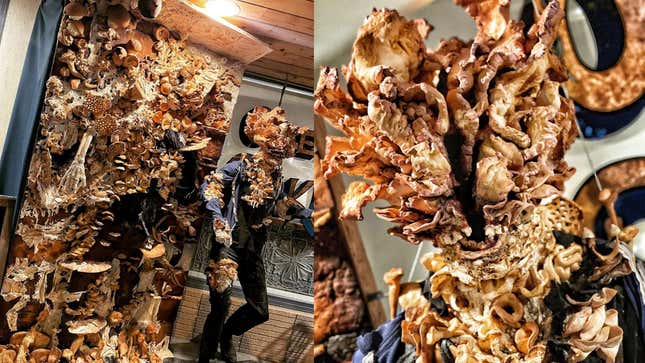 Read More: HBO's The Last Of Us Is A Safe Show That's Caught Between Big Changes, Expectations
By now you're probably asking yourself how such a large sculpture was made out of bread, as well as how long such an artistic culinary process would take. According to the SF Chronicle, it took the One House Bakery team over 400 hours to make the Clicker statue. How'd they do it? Well, the process apparently involved wrapping a bunch of balloons in a thin layer of dough and then baking them to evoke the infected zombie's grimy fungal look.
"When the popped balloon is removed, it leaves behind these really strange pod-like shapes we were able to use," Catherine told SF Chronicle.
This isn't the first time One House Bakery made a pop culture-inspired sculpture out of bread. In fact, last year the bakery made a Star Wars sculpture of Han Solo frozen in carbonite called "Pan Solo," which took home second-place at the 2022 event.
Time will tell whether One House Bakery's video game-inspired bread sculpture will eat up the other businesses' entries when this year's Scarecrow Contest takes place on October 23.