Redmagic 4K Gaming Monitor review: This Mini-LED monitor is magnificent for gaming
Redmagic is a relative unknown when it comes to PC hardware, but it has garnered a name for itself by rolling out some of the best Android gaming phones over the course of the last five years. A big differentiator for Redmagic is its focus on value; its gaming phones often tend to undercut their rivals by a significant margin — as is the case with the Redmagic 8 Pro.
Now, Redmagic is able to do this as it is the gaming unit of Nubia, which counts Chinese telecom giant ZTE as a major shareholder. Although Redmagic has only worked on phones up to this point, it is branching out into gaming accessories, introducing its first monitor, mechanical keyboard, and mouse. The 4K Gaming Monitor debuted in China last year, and is now going on sale in global markets, including North America.
Staying true to its character, Redmagic is being very ambitious with the monitor, offering a Mini-LED panel, 160Hz refresh, and 1,152 full-array local dimming (FALD) zones. Clearly, there is a lot to like here, and having used the monitor for just over a month now, I can confidently say that it is a fabulous choice if you're in the market for a high refresh rate 4K monitor featuring Mini-LED tech.
Redmagic 4K Gaming Monitor: Pricing and availability
Redmagic unveiled the 4K Gaming Monitor in China back in July 2022, and the monitor is now making its way to global markets. It is now available in the U.S. and Canada for $869 (opens in new tab), and is headed to other regions in the coming weeks. The monitor is available in a single variant and has a 27-inch panel.
Redmagic is currently celebrating its fifth-year anniversary and is holding a live event on its site (opens in new tab) to commemorate the occasion. You can save a decent amount of cash by bundling the monitor with the brand's gaming accessories, so if you're interested, hit up the link above.  
Swipe to scroll horizontally
| Category | Redmagic 4K Gaming Monitor |
| --- | --- |
| Display | 27-inch 16:9 IPS LCD with Mini-LED backlight |
| Resolution | 4K (3860 x 2160) |
| Refresh rate | 160Hz over DisplayPort, 120Hz over HDMI 2.1 |
| Brightness | 650 nits |
| Color gamut | 100% of sRGB, 96% of Adobe RGB, 98% of DCI-P3. |
| Viewing angle | 178° |
| Contrast ratio | 1000: 1 |
| Response | 1ms |
| Features | AMD FreeSync Premium, NVIDIA G-Sync |
| Dimensions | 24 x 19.6 x 9.3 in (with stand) |
| Weight | 15.65lb |
Redmagic 4K Gaming Monitor: Design and build quality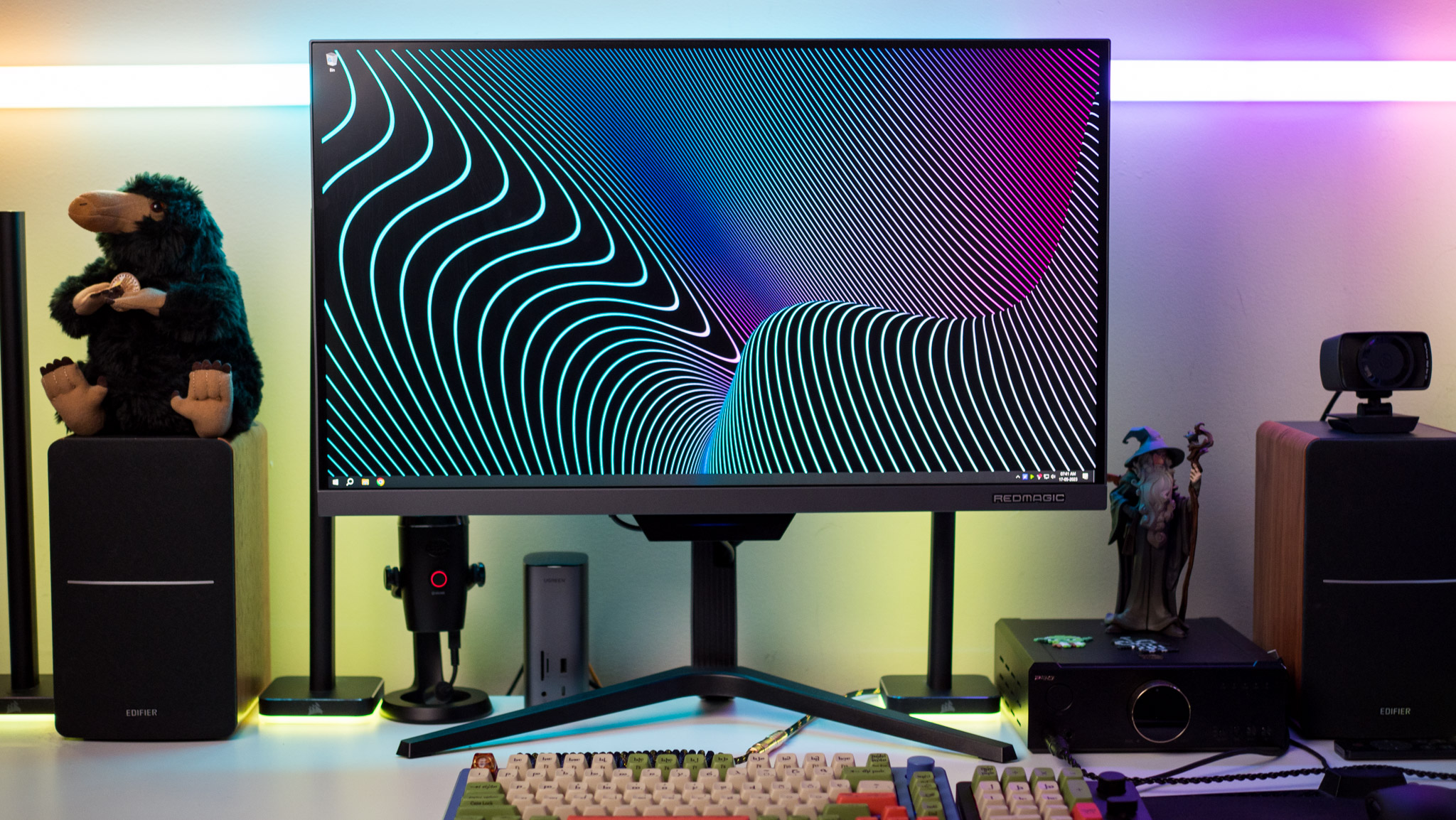 The name may be a bit simplistic, but there's nothing boring about the design of the 4K Gaming Monitor. It ticks all the right boxes for a high-end gaming monitor; you get aggressive lines, RGB lighting at the back, and an overall design aesthetic that ties in well with the brand's other products.
The monitor has a plastic finish and a matte texture that feels good, and the stand is also made out of the same material. The base of the stand, thankfully, is made out of metal, and it stays planted on your desk. The stand has a detachable shroud that lets you route cables with ease, and there's even a holder for hanging a headset — should you need one.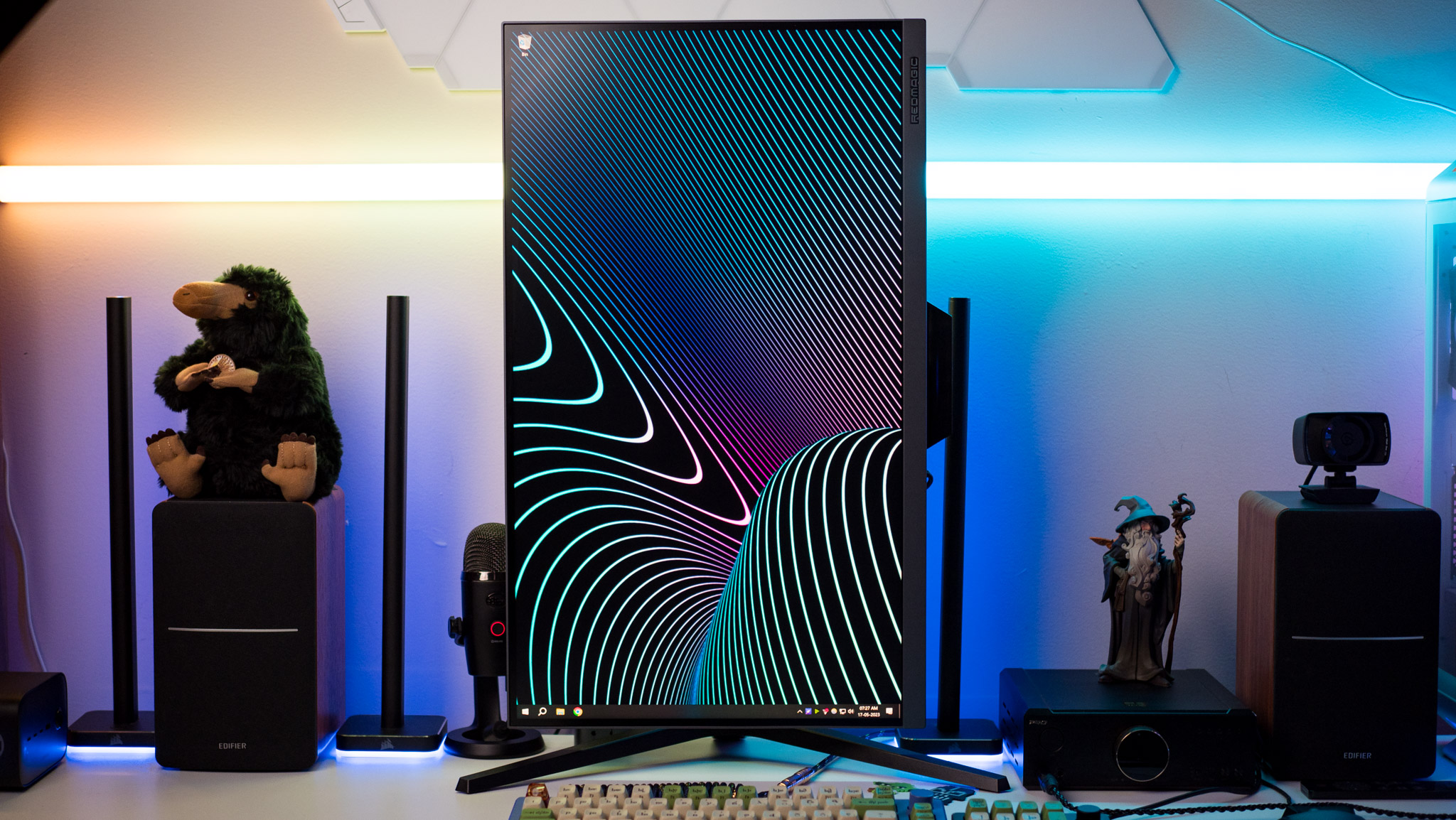 What I like the most about the stand is that it makes it extremely easy to switch the monitor to a portrait orientation. There's good tilt and swivel adjustment, and you can change the height as well.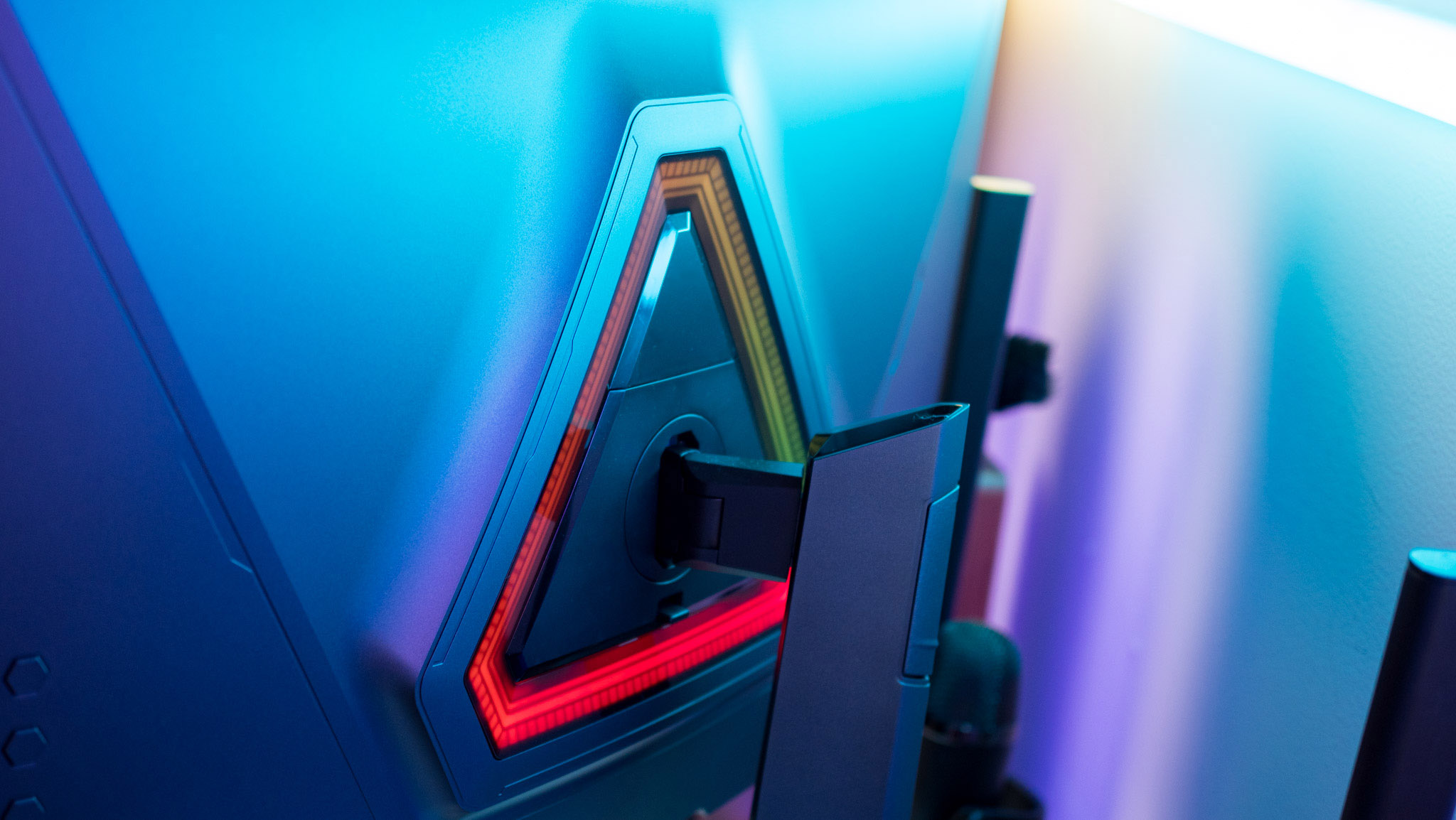 And if you're one to use a monitor arm, there's a standard VESA mount. The RGB light bar at the back isn't distracting in the least, and the LEDs aren't vibrant — at least not enough to be noticeable when you're using the monitor.
Redmagic advertises ultra-thin bezels on its marketing materials, but that isn't the case. The bezels on the three sides are relatively thin, but you don't quite get that all-screen effect. And of course, there's a fairly chunky bottom bezel that houses the Redmagic logo. Underneath the bottom bezel is the status LED.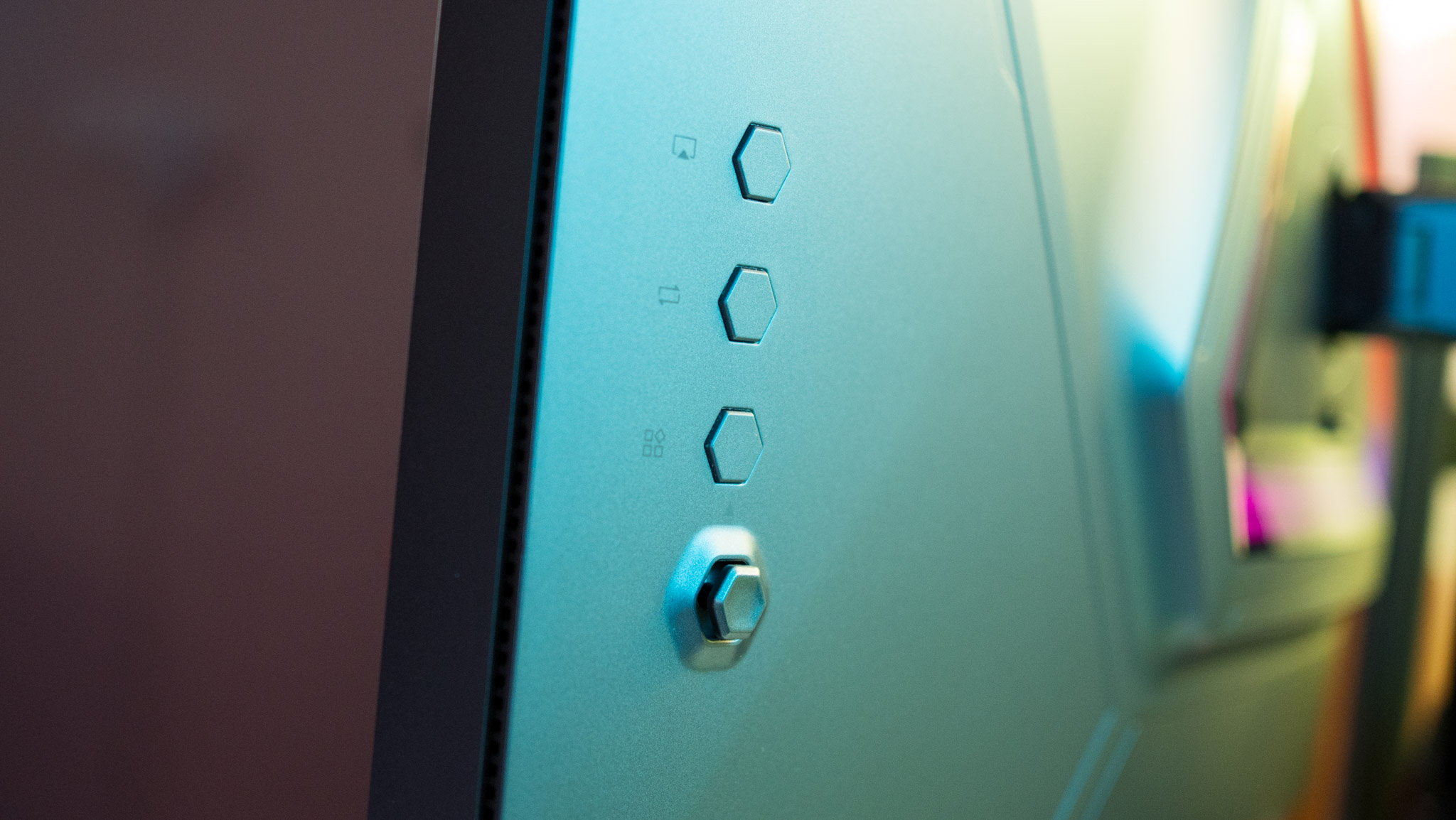 The build quality is excellent — as you'd imagine for a monitor in this category — and Redmagic did a good job in this area. My only quibble on the design front is the positioning of the buttons — they're located a little further back than usual, and it can get a bit unwieldy to access the OSD menu. 
Redmagic 4K Gaming Monitor: Ports and features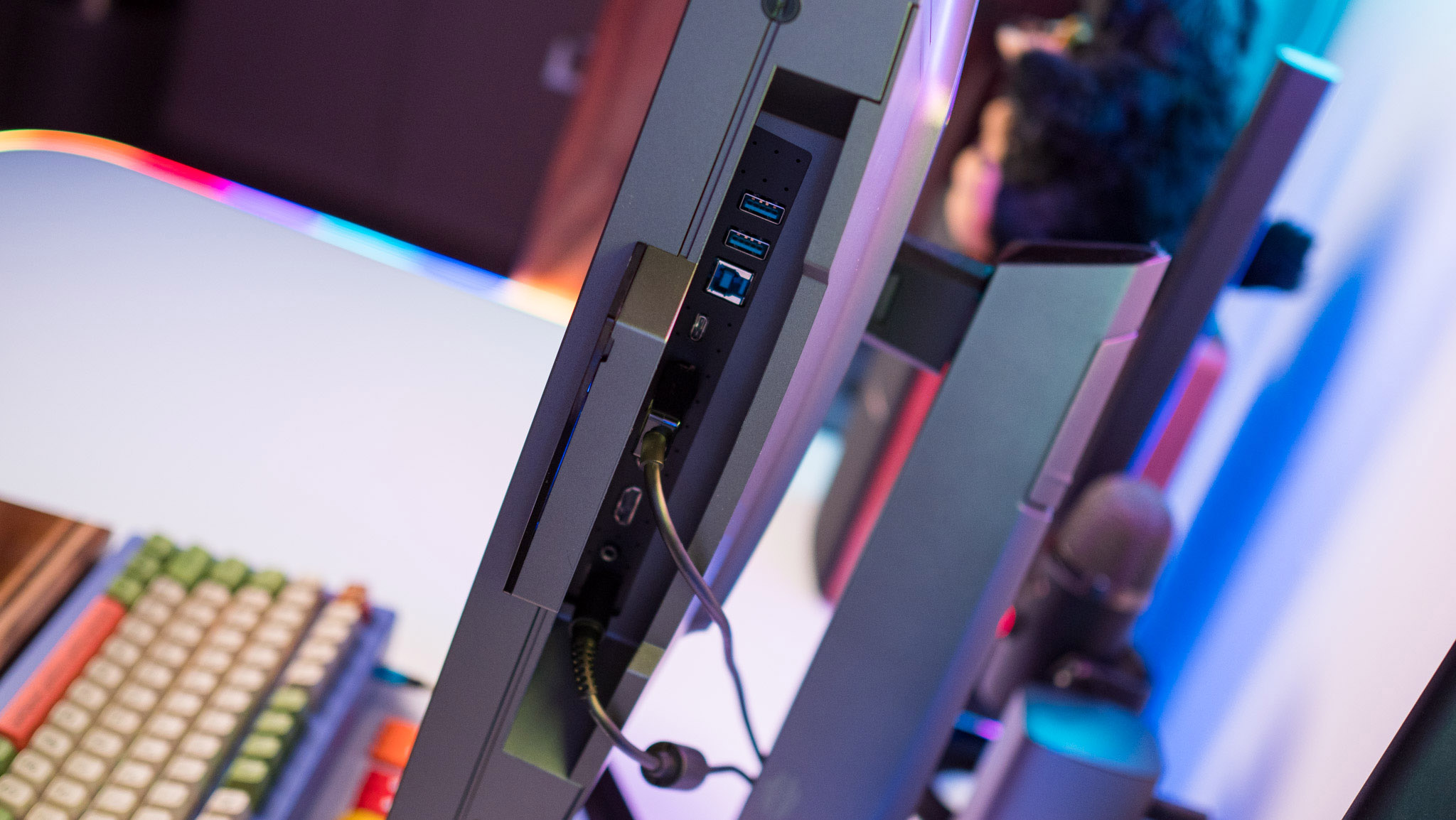 You get a good selection of features with the monitor, including all the ports you need. You'll find two HDMI 2.1 ports along with one DisplayPort 1.4 port, one USB-C port that can be used for charging accessories at up to 90W over the USB PD 3.0 protocol, two USB-A Gen 3.0 ports, a USB-B port, and a 3.5mm jack. There's no built-in audio here, but you can always connect wired audio gear directly to the monitor if you want to do so.
As is the case with all monitors, you'll need to use DisplayPort if you want to take the full advantage of the monitor's potential. HDMI 2.1 goes up to 120Hz over a 4K connection, with DisplayPort 1.4 able to hit the full 160Hz at 4K.
The OSD menu has a decent selection of modes and gaming-focused features, but it has the most convoluted layout of any monitor I've used to date. You control all the menu settings via the joystick; toggling it to the left lets you choose a crosshair design — handy for FPS titles — and toggling the joystick to the right surfaces the main menu with all the picture, brightness, and contrast settings. Toggling up surfaces the available modes, and for some reason I can't understand, toggling down switches off the monitor.
There are three other buttons here — one is for turning HDR on or off, the second is for switching between various inputs, and the third button pulls up a sub-menu to adjust the picture mode, refresh rate, and set a crosshair. It's clear that Redmagic didn't put much thought into the layout of the buttons and the OSD menu, but once you get the hang of it, you'll be able to access the settings you're looking for easily enough.
Redmagic 4K Gaming Monitor: Picture quality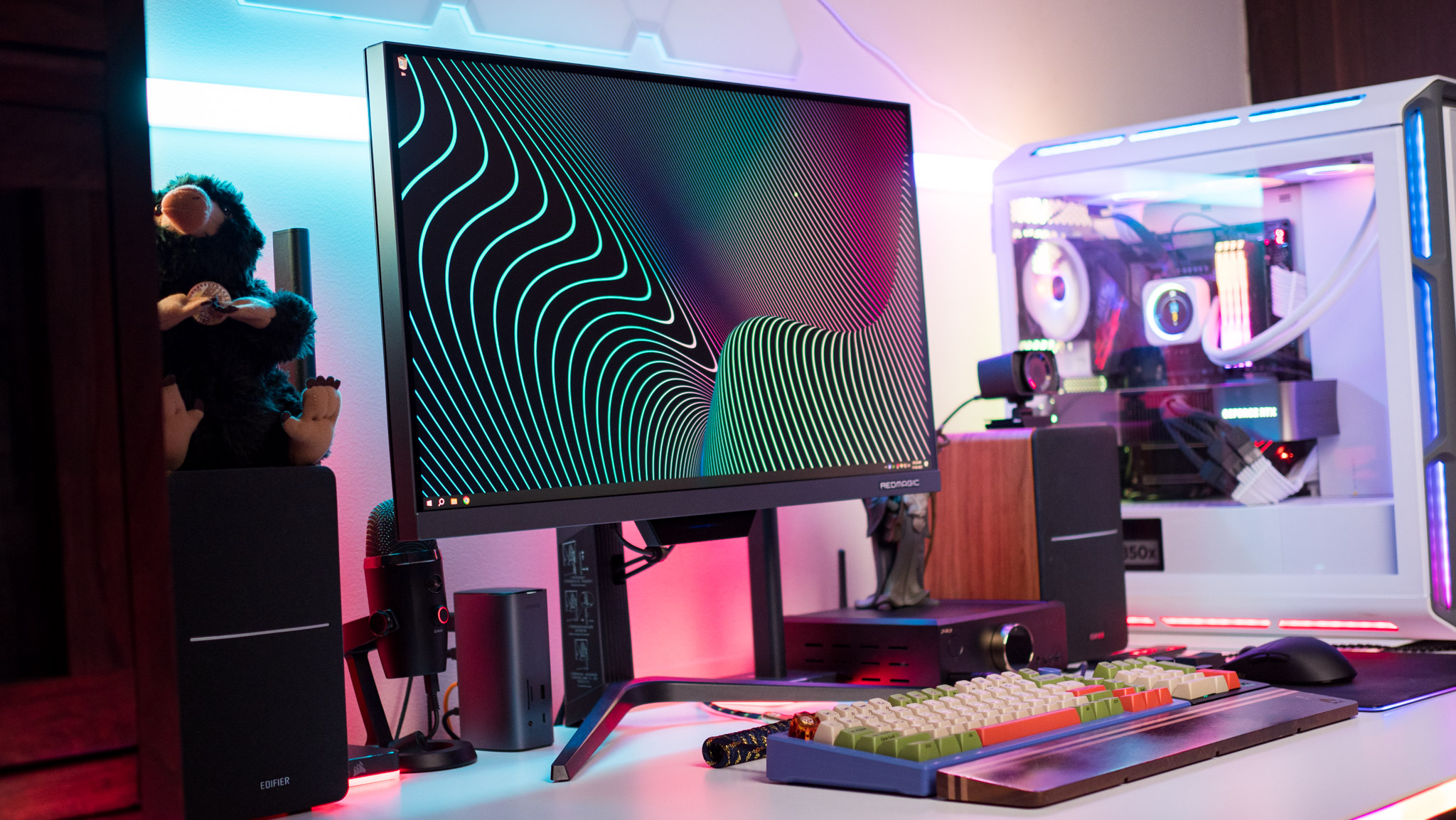 The marquee feature on the Redmagic 4K Gaming Monitor is the fact that it uses a Mini-LED panel. As a high-level overview, Mini-LED is essentially a variant of LED that's about half the size, and this allows manufacturers to fit more diodes into the panel, increasing the local dimming zones. This particular monitor has 1,152 full-array local dimming, leading to much better contrast levels than traditional LED monitors.
Mini-LED is the ideal choice for the best gaming monitors as it offers better contrast than a regular LED and much better brightness levels than an OLED, and you don't have to worry about burn-in issues. The best part is that Mini-LED panels are significantly more affordable than OLED screens at the moment, so it strikes the perfect balance.
Of course, blooming is always going to be an issue with anything that isn't an OLED as the diodes are still lit by a backlight, but that hasn't been a major issue in the month I used the monitor. There is an anti-glare coating over the panel, and while I'm not a fan of these, it hasn't been a problem — as you'll see further below, the monitor gets quite bright.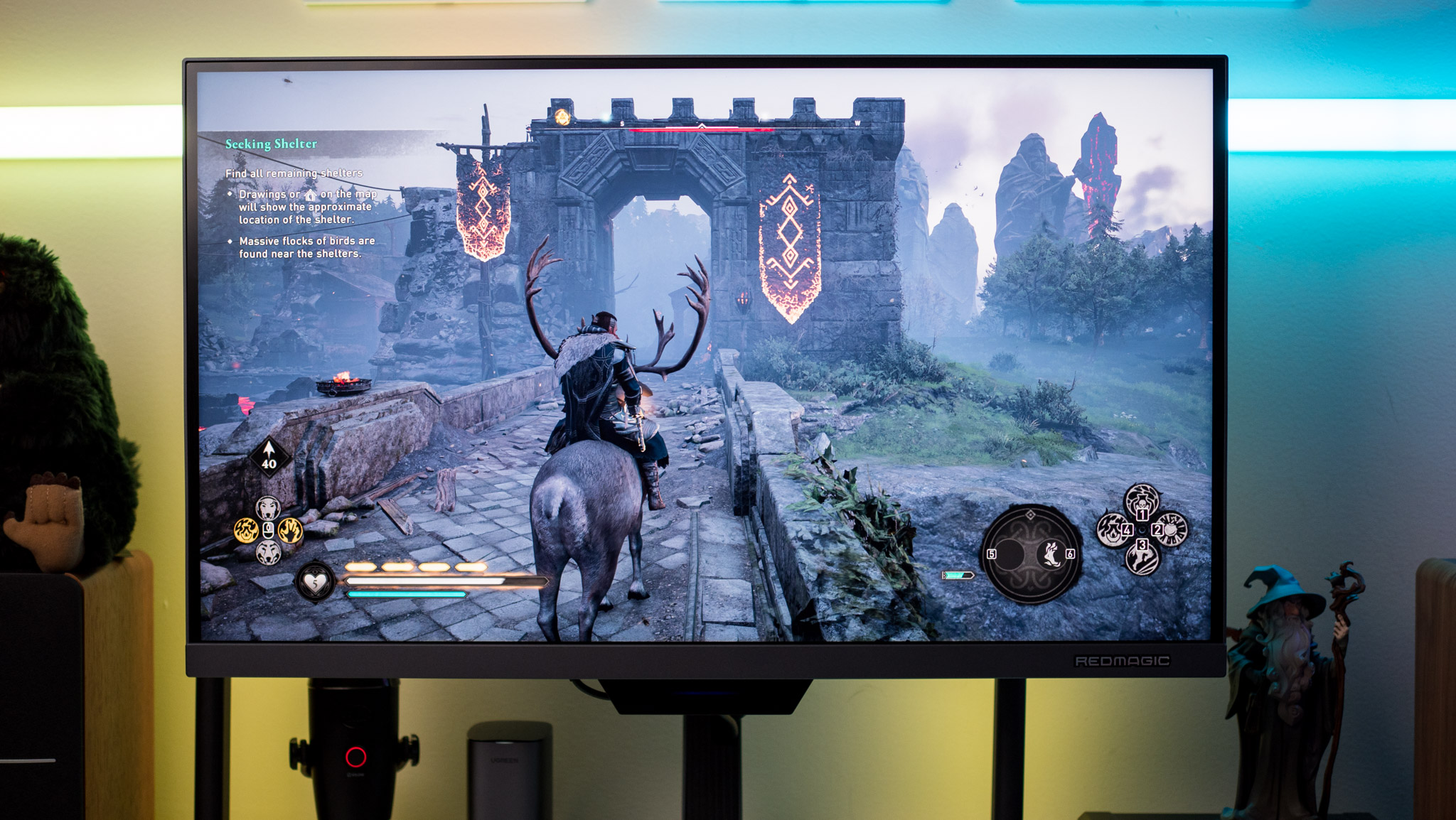 Redmagic offers four color modes on the monitor: Movie, FPS, and MOBA modes offer increased color saturation that makes playing games and multimedia that much more enjoyable, but they're not suited for image or video editing as you don't necessarily get accurate colors. Thankfully, you get dedicated modes for DCI-P3, sRGB, and Adobe RGB, and you'll immediately notice a difference in color fidelity when switching to one of these modes.
For my own use case, I went with the Movie mode most of the time, switching to FPS to test out what it has to offer for gaming. Both of these modes are great for daily use as you get vibrant colors and excellent contrast, and if you need to do any color-accurate work, the other modes are always available.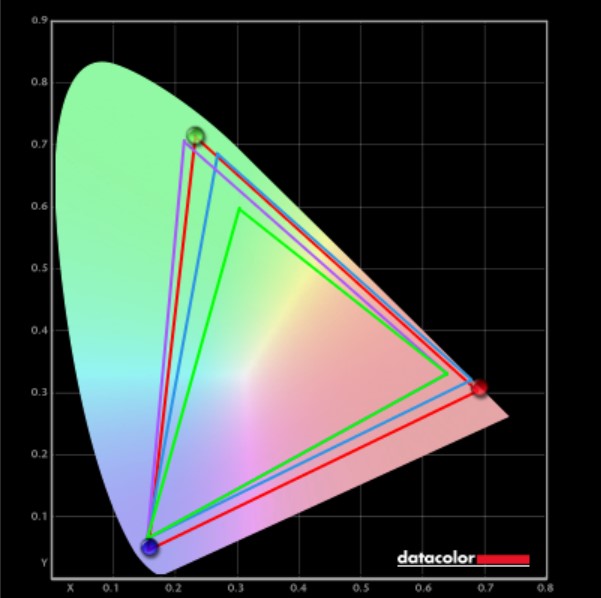 Factory calibration is really good out of the box, but I used the SpyderX Pro to calibrate the monitor regardless. Color accuracy is in line with Redmagic's claims, with the monitor able to hit 100% of the sRGB color gamut, 96% of Adobe RGB, and 98% of DCI-P3.
Redmagic touts a maximum brightness of 650 nits, and I was able to get relatively close to that in my testing, hitting 564.5 nits with the slider turned all the way up. The monitor defaults to 70% brightness out of the box, and I left it at 50% for most of the testing window. The panel is touted with an HDR1000 rating, with Redmagic noting that it can go up to 1,300 nits during HDR content.
Swipe to scroll horizontally
| Setting | Brightness | Black | Contrast | White Point |
| --- | --- | --- | --- | --- |
| 0% | 136.4 | 0.15 | 910:1 | 6700 |
| 25% | 236.8 | 0.24 | 990:1 | 6700 |
| 50% | 337.6 | 0.34 | 980:1 | 6700 |
| 75% | 451.2 | 0.45 | 1000:1 | 6700 |
| 100% | 564.5 | 0.56 | 1020:1 | 6700 |
White point was uniform throughout the tests at 6700K, and while that's slightly on the cooler side, you have the ability to adjust it. Contrast levels are also good, with the monitor able to hit 980:1 at 50% brightness.
The monitor handles HDR particularly well, as long as you're using it only for gaming. Windows still doesn't do a great job with HDR in daily use cases, with colors looking washed out. But in titles with varying lighting effects, you'll see a drastic amount of difference with HDR enabled. On that note, the monitor has G-Sync and FreeSync, and it goes up to 160Hz.
Of course, you'll need the likes of the GeForce RTX 4090 to truly push modern games to over 100fps, but that's just the state of gaming these days. For what it's worth, I paired the 4K Gaming Monitor with the RTX 4090 FE, and it held up incredibly well in FPS titles.
Overall, the monitor does a terrific job when it comes to image quality, delivering deep blacks, standout contrast levels, and stellar color accuracy. The high refresh rate combined with decent handling of HDR content makes the 4K Gaming Monitor a fabulous choice for gaming.
Redmagic 4K Gaming Monitor: The competition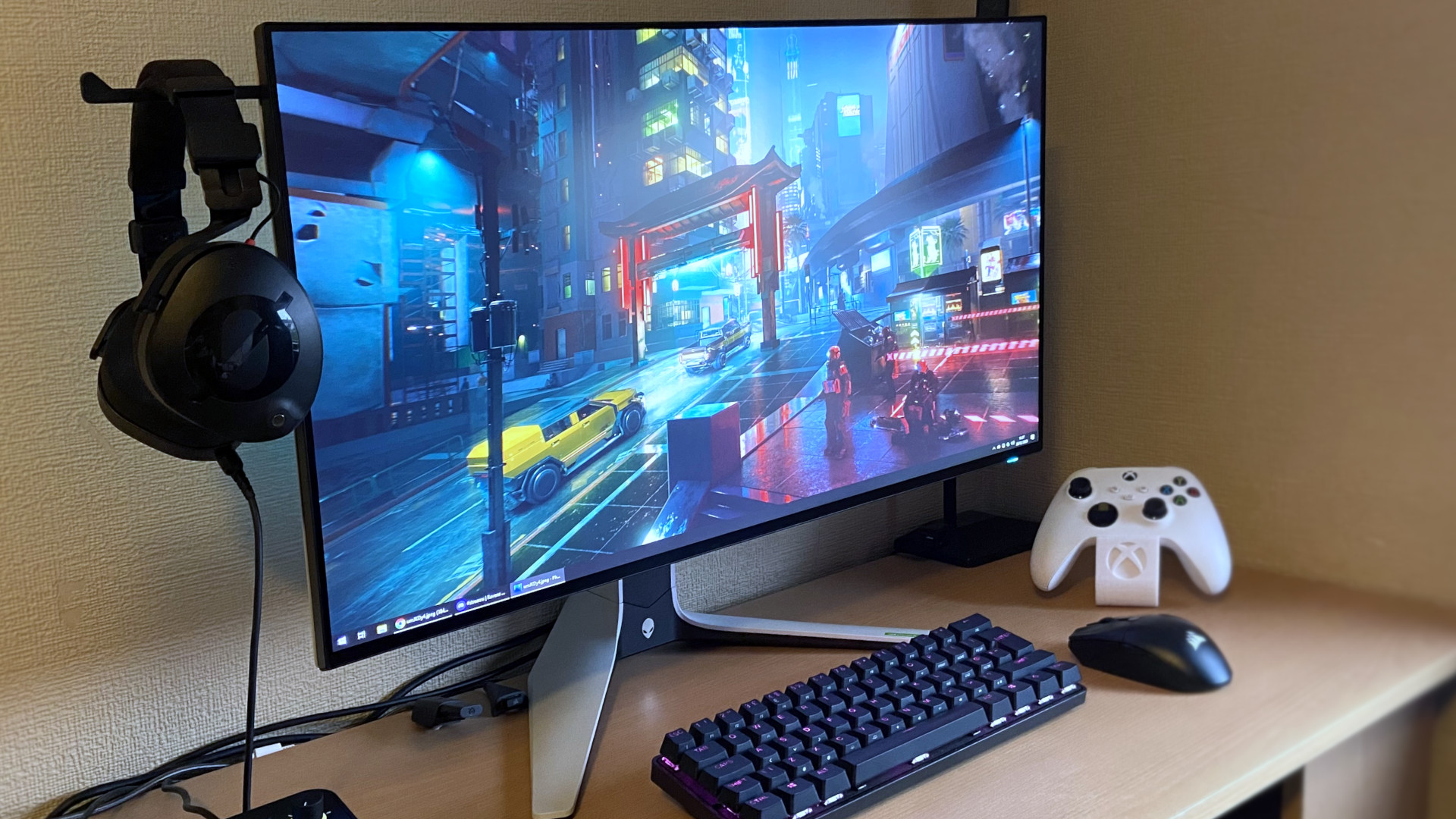 There's a decent number of Mini-LED monitors in the market today, and if you like the look of what Redmagic is offering, you may be interested in the Innocn 27M2V. Both monitors use the same 27-inch Mini-LED panel, and offer the same set of features: you get 4K resolution, 160Hz refresh, HDR1000, and a similar set of ports. It retails for $800 — $100 less than Redmagic's monitor — but it is sold out at the moment, and there's no telling when it will be restocked.
If you don't mind switching to a regular LCD monitor, Alienware's AW2723DF is a great choice that has a lot to offer. You get the same 27-inch screen size, but the resolution is 1440p, and you miss out on increased contrast and brightness levels. The upside is that it hits a refresh of 240Hz, has a stunning design, and retailing for $552 on Amazon (opens in new tab), it's $300 less than the Redmagic monitor.
Now, if you want the best color fidelity, you may want to take a look at LG's UltraGear 27 OLED. As the name suggests, this is also a 27-inch monitor, and it has a 1440p resolution. The OLED panel means you'll get excellent contrast levels and color vibrancy, but you may have to contend with burn-in issues. Barring that quibble, you get 240Hz refresh, HDMI 2.1 ports, NVIDIA G-Sync, and all the other high-end features you need in a gaming monitor. The UltraGear 27 OLED retails for $997 on Amazon (opens in new tab), which is still reasonable for an OLED monitor.
Redmagic 4K Gaming Monitor: Should you buy it?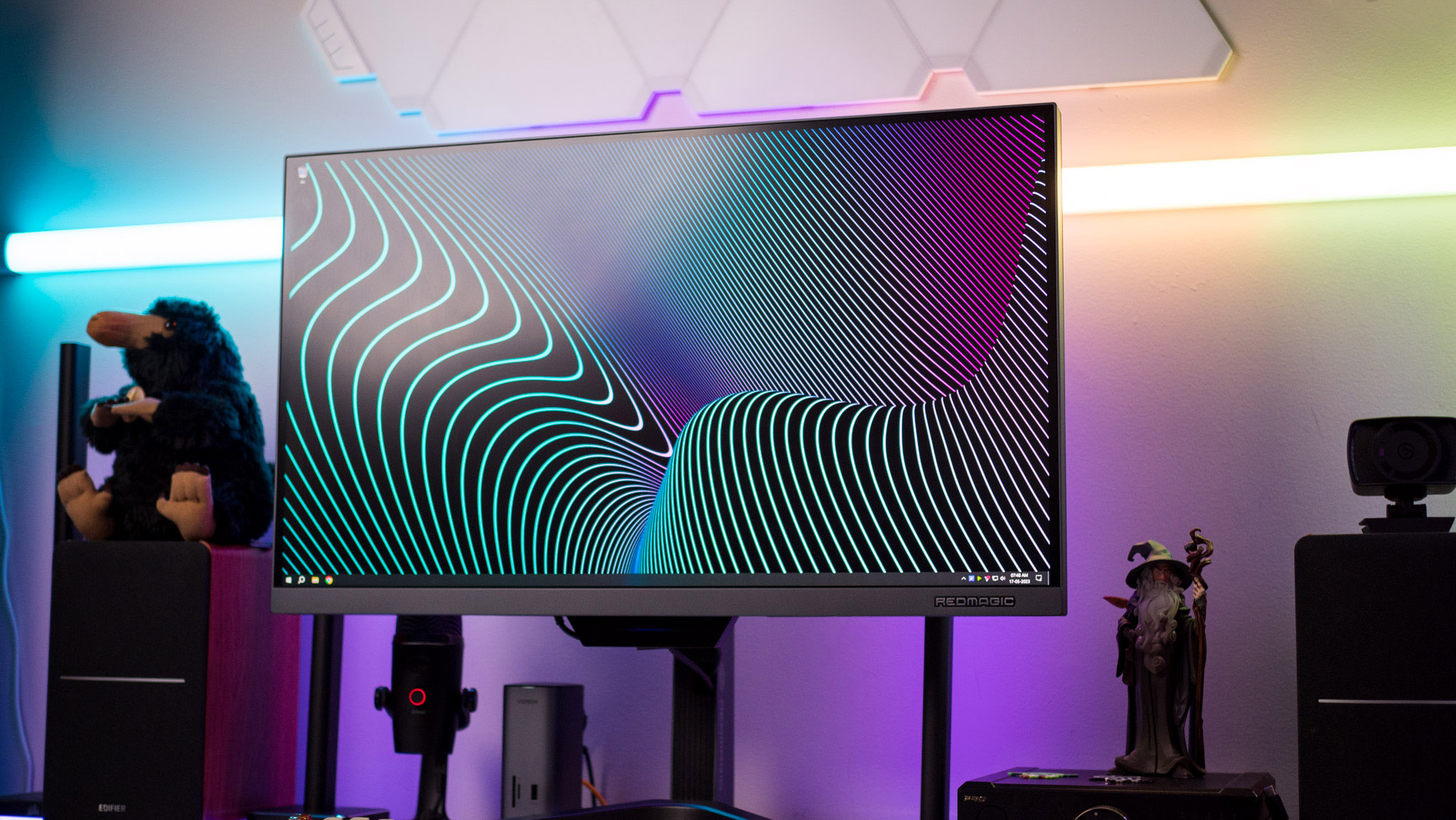 You should buy this if:
You want a 27-inch 4K monitor for gaming
You need a better panel than LCDs but don't want to invest in an OLED
You need a high refresh rate monitor
You want excellent color saturation and vibrancy
You shouldn't buy this if:
You need the best value
You don't need a 4K screen
All things considered, Redmagic did a brilliant job with the 4K Gaming Monitor. The Mini-LED panel is the star of the show, and it manages to deliver excellent contrast and brightness levels along with great viewing angles and color accuracy, and it is one of the best panels you'll find in this category at the moment.
There are no issues with the design and build quality, and the 4K resolution combined with the 27-inch screen size and 160Hz refresh makes it a great choice for a gaming monitor. If you don't want to take a risk with OLED monitors but want better colors and contrast levels than a regular LED, this is the ideal choice right now.