Thrustmaster T818 review: Affordable direct-drive sim racing with a catch
It's been a long time coming, and Thrustmaster has finally released the T818, a direct-drive servo wheelbase to take the top spot in its vast range of sim racing peripherals. Offering the most realistic force feedback combined with an ultra-fine response for intricate turns, there's no better tech for virtual racing fans. I spent the week trying it out with a couple of wheel rims for a thorough Thrustmaster T818 direct drive wheel base review to see how it compares to the competition, including the wealth of sim racing alternatives lurking in my attic.
Disclaimer: This review was made possible by a review unit provided by Thrustmaster EU. The company did not see the contents of the review before publishing.
Thrustmaster T818: Price and availability
Thrustmaster sells the T818 direct drive wheel base through its official US and EU stores for $750 MSRP and £600 RRP, respectively. It's packaged with a quick adapter kit suitable for one compatible Thrustmaster wheel rim and AC power connections for your region. If you have a sim racing cockpit, the T818 mounting pattern differs from previous Thrustmaster wheelbases, and the new bolt placements may not match your setup.
In the box
Quick-release adapter kit
Region-specific AC cable
USB-C to USB-A cable
168W power supply
Membership card
Membership flyer
Warranty flyer
A separate cockpit mounting kit for $40 / £35 moves the bolt holes to a broader, more common layout. Alternatively, Thrustmaster offers a desk mounting kit for $50 / £45 that doubles as a cockpit mount, albeit raising the wheelbase to an increased angle. If your cockpit has an adjustable wheelbase mount, you should be able to counteract the rise and benefit from a double-action kit that mounts to sturdy desks.
The included quick-release adapter can become challenging to remove without using a flat tool for leverage. I recommend picking up another for $35 / £35 if you regularly switch between 2x wheel rims; it's available from the official US and EU Thrustmaster storefronts alongside the desk mounting kit and colored metal wheelbase plates in black, grey, white, and orange, for added customization.
Thrustmaster T818: First impressions and setup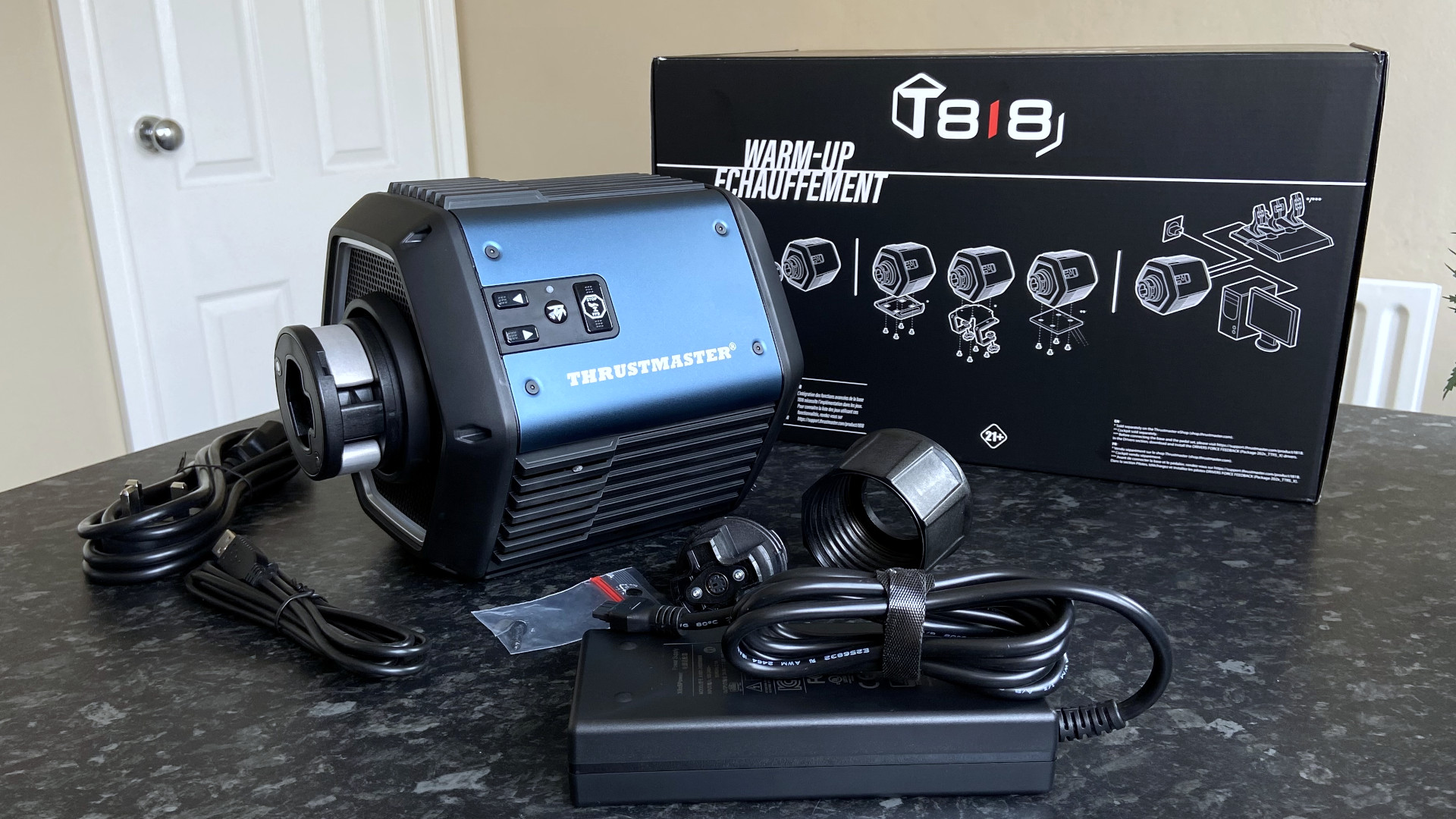 Before I opened the T818 box, the weight of Thrustmaster's hefty direct-drive wheelbase was immediately apparent. They list it at 5kg, which is pretty intimidating for anyone planning to mount this monster to a desk. Usually, I lean towards versatility as a central selling point for racing wheels, but I can't imagine it would go well with the T818 unless you're sporting solid wood in your setup.
Practically every wheelbase I've ever used cautions against mounting to any desks built with MDF or particleboard, so I can forget about using my mass-produced Swedish furniture with this beast. If you wanted to, you could disable all the force feedback and still enjoy the smooth input offered by a direct-drive system. Still, it's hard to imagine a scenario where anyone spends hundreds of dollars for the most advanced sim racing tech to disable it and save their desk from being shaken to pieces.
Either way, it's simply too heavy for most desks. Even in my Logitech G PRO review, I used the included clamp with our solid crafting table because I didn't want that 7.8kg behemoth bending my office desk to the point of snapping. Stick to a sturdy metal cockpit if you're picking up a wheelbase capable of 10Nm of torque like the T818.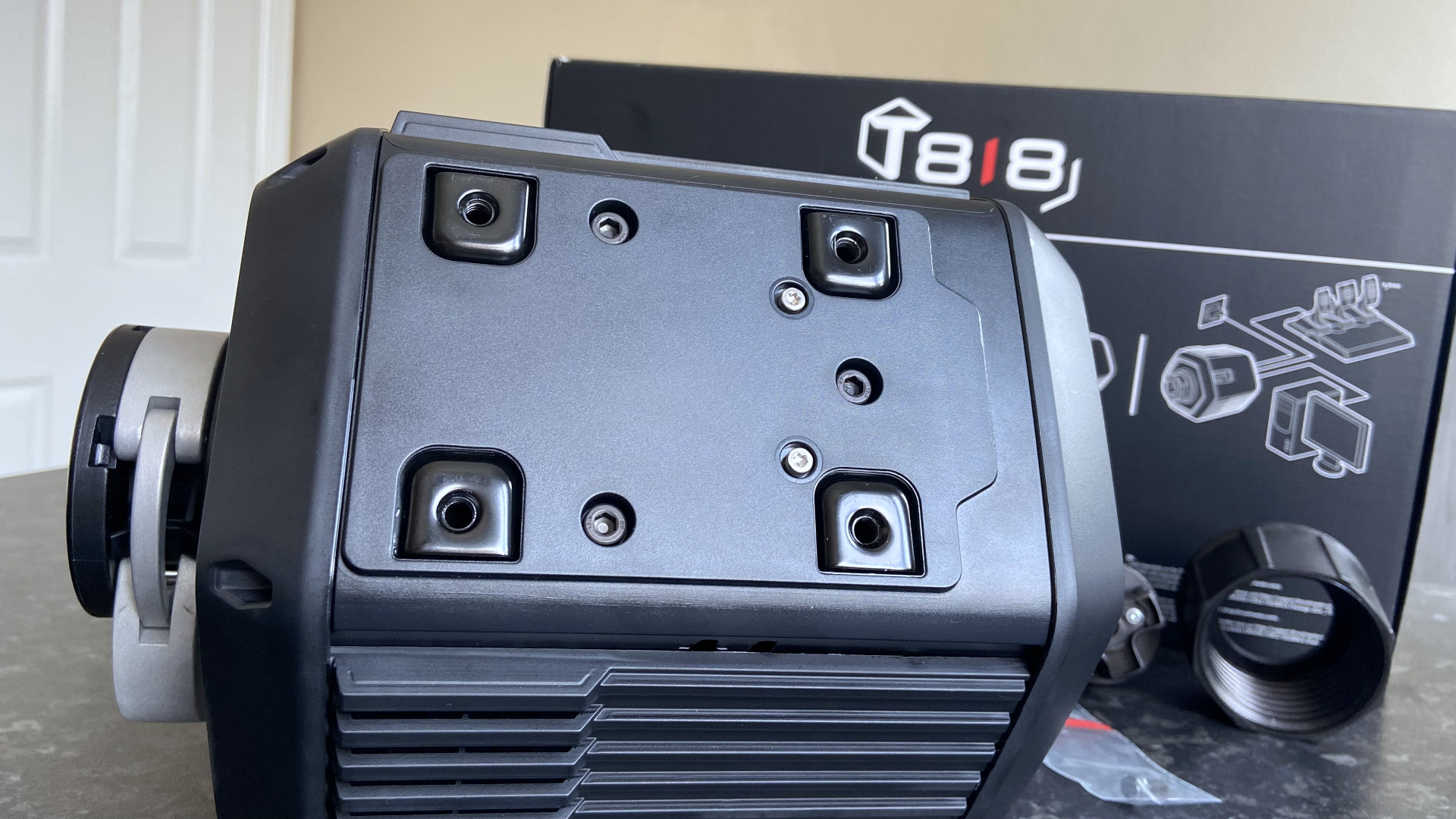 However, there is a glaring issue facing anyone who has used a sim racing cockpit with Thrustmaster wheelbases in the past. The T818 uses a bolt pattern unique from its predecessors and doesn't match up with anything I have available. A downloadable guide is available from the official T818 technical support page (opens in new tab) if you're willing to drill some extra holes in your cockpit. Thankfully, Thrustmaster EU was kind enough to provide a sample of its desk mounting kit, which doubles as a cockpit mount if you forego the clamps, so I put away my power tools.
Since I already had a reasonably compact sim racing setup courtesy of a Dark Matter GT foldable stand review sample, all I had to do was remove the wheel directly mounted to its plate and replace it with the provided kit. My usual go-to steering wheel comes from a Thrustmaster T248X review sample, which made the discrepancies between threaded bolt holes particularly obvious when making the switch. Still, it's straightforward to attach, needing only a few turns of a hex key and a little extra cash in your budget to buy one of the mounts.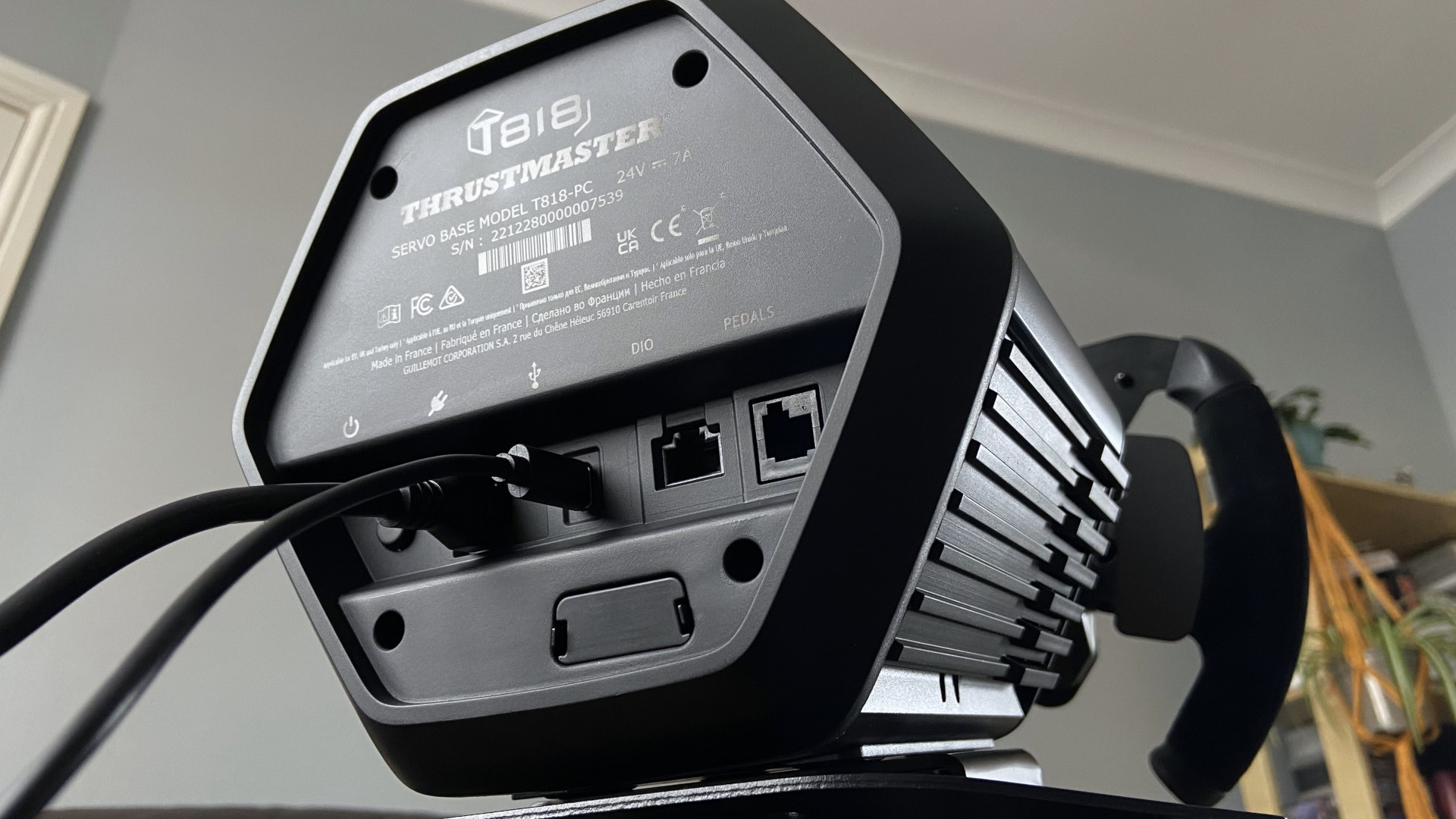 Around the back, the port arrangement is as straightforward as ever. There's no way to accidentally plug anything in the wrong place since each connection uses a unique style, with one currently obscured with a plastic cover for whatever Thrustmaster has planned in the future. I've tested compatible pedal sets in the past, explaining in my Thrustmaster T-LCM pedals review how they rely on an RJ12 socket connected to a wheelbase to function.
Holding the mode button on the side of the T818 switches any detected triple-pedal sets from standard to inverted modes, which is perfect if you have a compatible cockpit mount for an upside-down configuration. A curious addition is a full-sized RJ45 port for an Ethernet cable like you might use to connect your computer to a router, but it's currently left unused by Thrustmaster. This mysterious port might have triggered some excitement, like its plastic-covered companion, but it's tricky to share hype when there are no hints as to what it might be.
Thrustmaster T818: Quick-release adapter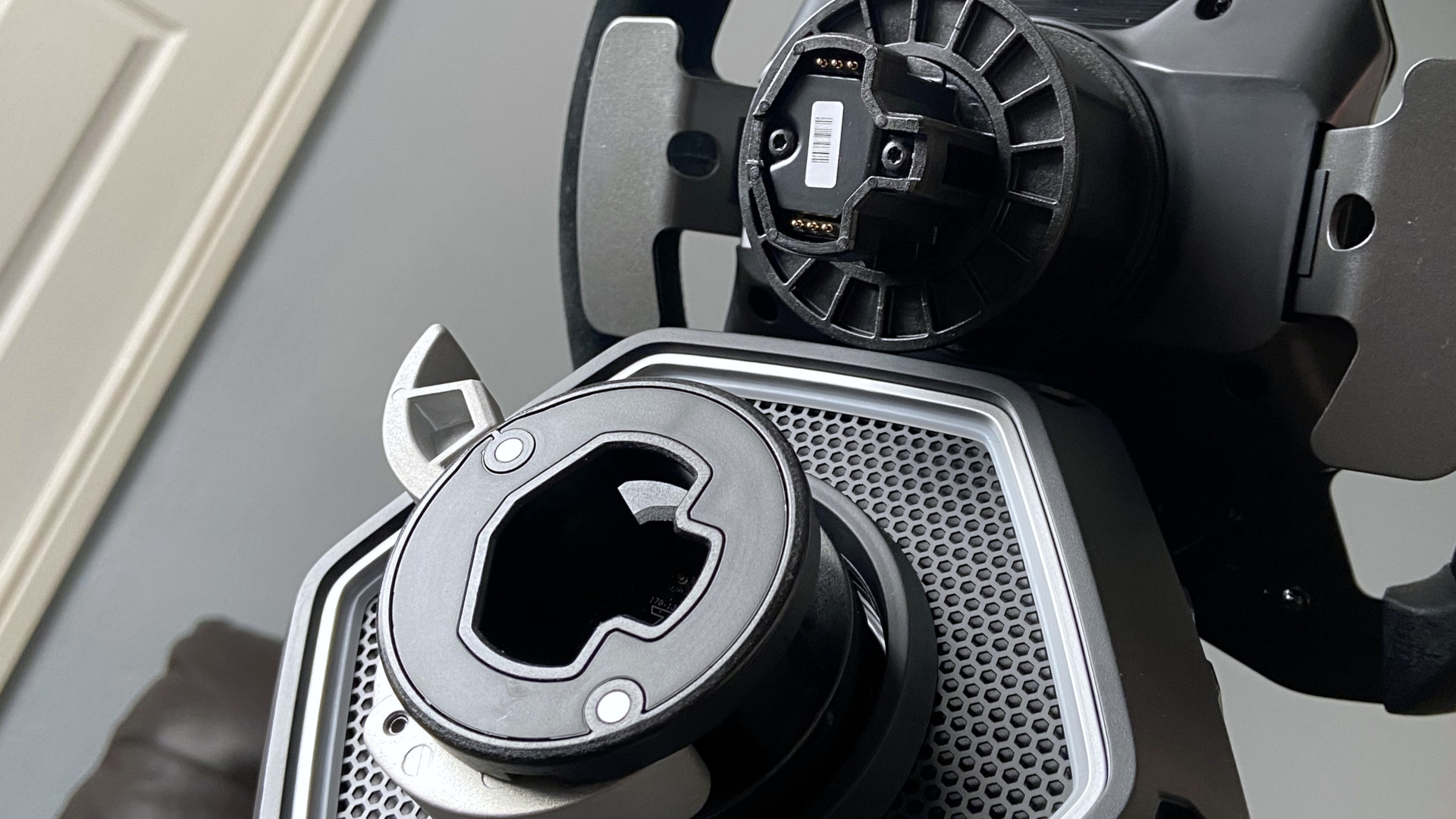 I have complained about Thrustmaster's servo base design choices in the past, with most gripes relating to the ugly aesthetics of a single giant screw holding everything in place during my Thrustmaster TX leather edition review. There have been improvements with the T818, but some unfortunate leftovers are still here, including the screw.
A plastic clamp ring twists into place with as much tension as you can manage, but you're still advised to tighten a protruding screw to attach a wheel rim completely. I skipped the screw, and it was fine. There's 10Nm of torque under the hood of the T818 servo, so I understand the recommendation to keep your precious wheel rims firmly attached, but the screw looks awful, and I still hate it.
Fortunately, Thrustmaster has adopted a brand-new system with its quick-release adapter, including at least one with the T818 in the box. Essentially it's a big hunk of plastic molded perfectly to compatible wheel rims, serving as an in-between for the direct drive base and old-style connectors. It's not a flimsy accessory, but you're still advised to handle it carefully since any damage to connecting pins can leave it completely unusable.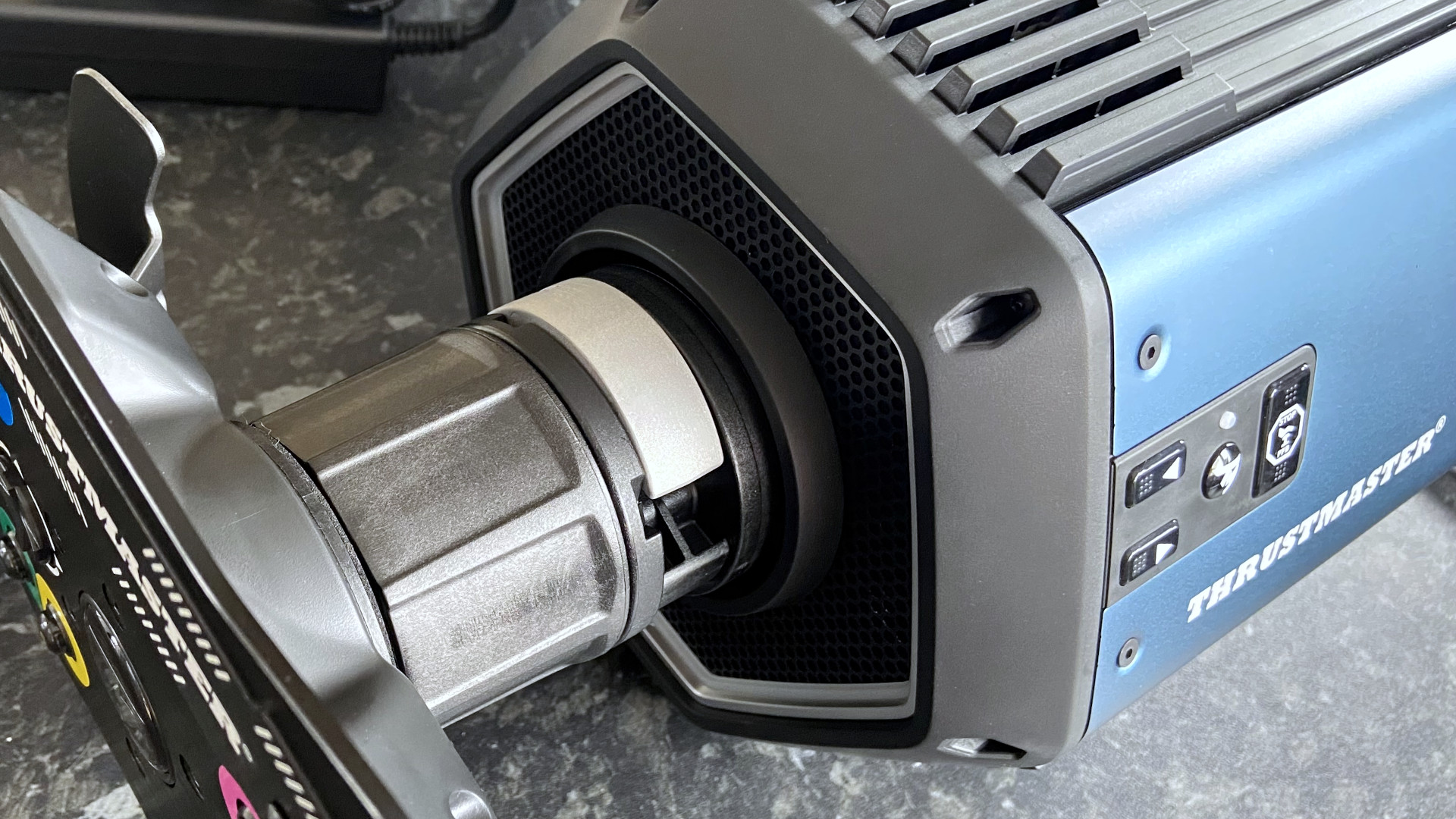 A straightforward locking lever on the servo base acts as the proper quick-release mechanic since you only need to lift it away from the neck, and your wheel rim will easily slip out. That's not to say there's any apparent danger of wheels disconnecting mid-race, and I couldn't detect any obvious reasons why you would accidentally touch the lever during gameplay. It's a massive improvement from the Thrustmaster TX servo base, with only one real downside.
The quick-release adapter might help you to release a wheel rim from the T818 base swiftly, but removing the adapter itself from your favorite rim is another story. In the interest of fairness, I wanted to try everything Thrustmaster sent for this review, including a rally wheel Sparco R383 mod and the TM open wheel add-on. Essentially two rims in different shapes and styles, moving the adapter was painfully difficult.
Thrustmaster claims you 'might' need a tool to remove the quick-release adapter, just like plants might need water to survive. It's the primary reason I recommend picking up a second quick-release adapter if you plan to switch between two of your favorite wheel rims because prying this thing out with a screwdriver is no fun. Given the warnings about handling the adapter carefully to protect the pins, it left me uneasy about applying such force to remove it.
Thrustmaster T818: Software and gameplay
If you've ever used a Thrustmaster set, you'll likely recognize the control panel software since it's never really changed in appearance. A reasonably standard window still displays any detected pedals and the usual live readouts you'd see on even the more affordable all-in-one models, like the Thrustmaster T128. It allows you to set the maximum rotation for any wheel connected to the T818, although you can do this even faster with the mode and arrow buttons on the side of the unit, plus some extra options for this new direct drive servo.
Most notably, if you attempt to push the overall strength of force feedback over 70%, you'll need to click a padlock icon and acknowledge a warning about potential risks of injury. Four preset options are available from a down-down list, including comfort, sport, performance, and extreme, making it a little easier to experience the different intensity levels offered by the T818. Still, most e-sport racing sim enthusiasts will likely use custom settings, and nothing stops them here.
There's an additional window towards the bottom for controlling an RGB light strip around the front of the servo, allowing you to set a custom color or reset it to its defaults. If I'm honest, I found the LED lighting pretty pointless since it's mostly obscured by connected wheel rims anyway; more like a gimmick than anything genuinely beneficial. Gamers love RGB, I guess. Above anything else, the focus is on the advantages of direct drive servos, and everything proved to be one of the smoothest sim racing experiences I've had to date.
Updating the firmware is slightly more involved than previous sets, needing both arrow buttons held down while booting to allow the software to run, but it's nothing taxing. Forza Horizon 5 (opens in new tab) detected the T818 as a Thrustmaster T248 on a fresh install of Windows, having never used any of my racing wheels before. It doesn't seem to matter since the game's in-depth force feedback controls gave me plenty of flexibility to tune the servo to my liking.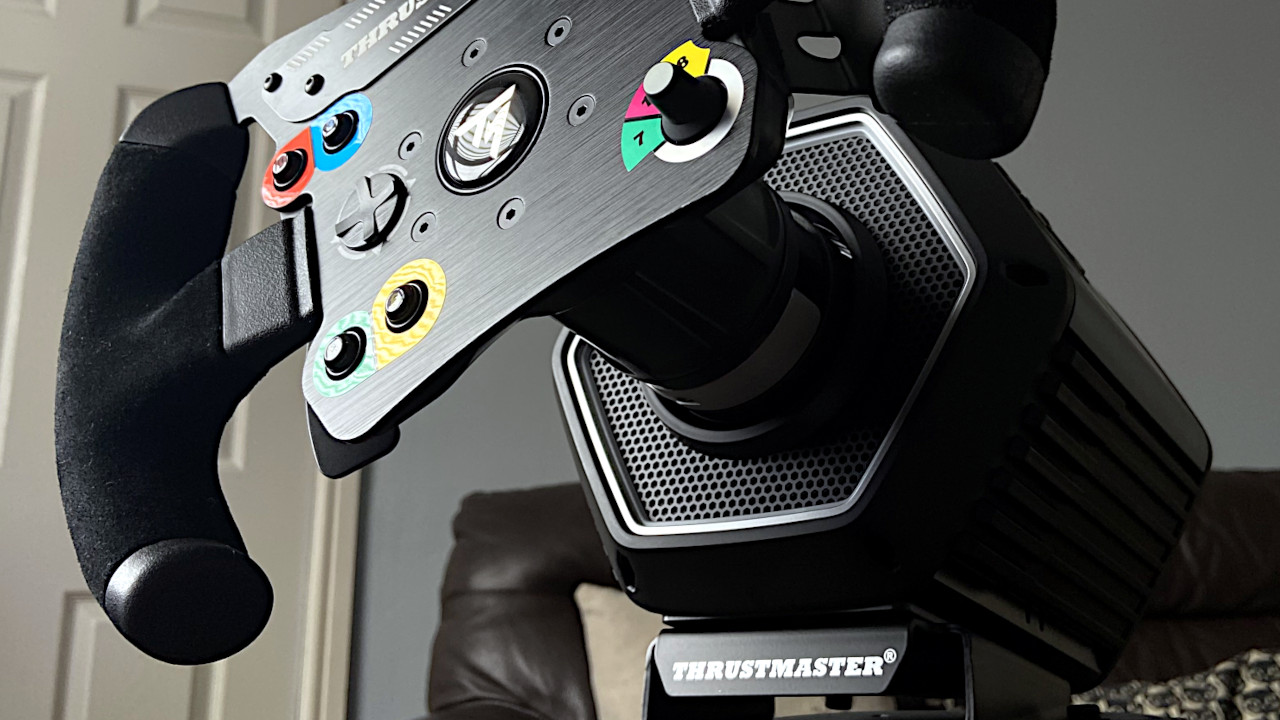 Pushing the torque up to 10Nm makes for a realistic experience with F1 titles. Still, I prefer to keep it around the 5Nm mark for most of my gameplay, so knowing that competitors offer stronger servos doesn't bother me. Thrustmaster defaults to 50% when installing the T818 anyway, so 5Nm is seemingly the recommended torque with anything else considered a tweak.
Overall, it's an impossibly smooth experience if you disable the force feedback. It gave me an idea of exactly how precise the steering is. Besides a mild rumbling around the center point, the T818 is easily one of the best sim racing setups I've ever used. Switch the FFB back on, and you can feel how games translate the usual effects of simulated gravel and other rough terrains through the base, with the wheel fighting back as your car regains traction after a skid.
Some of its competition might provide more earth-shattering feedback effects. Still, the T818 offers fantastic accuracy in precise steering. Switching to a vast array of wheel rims quickly is a massive bonus the established Thrustmaster ecosystem provides, too, which will undoubtedly appeal to hardcore sim racing enthusiasts.
Thrustmaster T818: The competition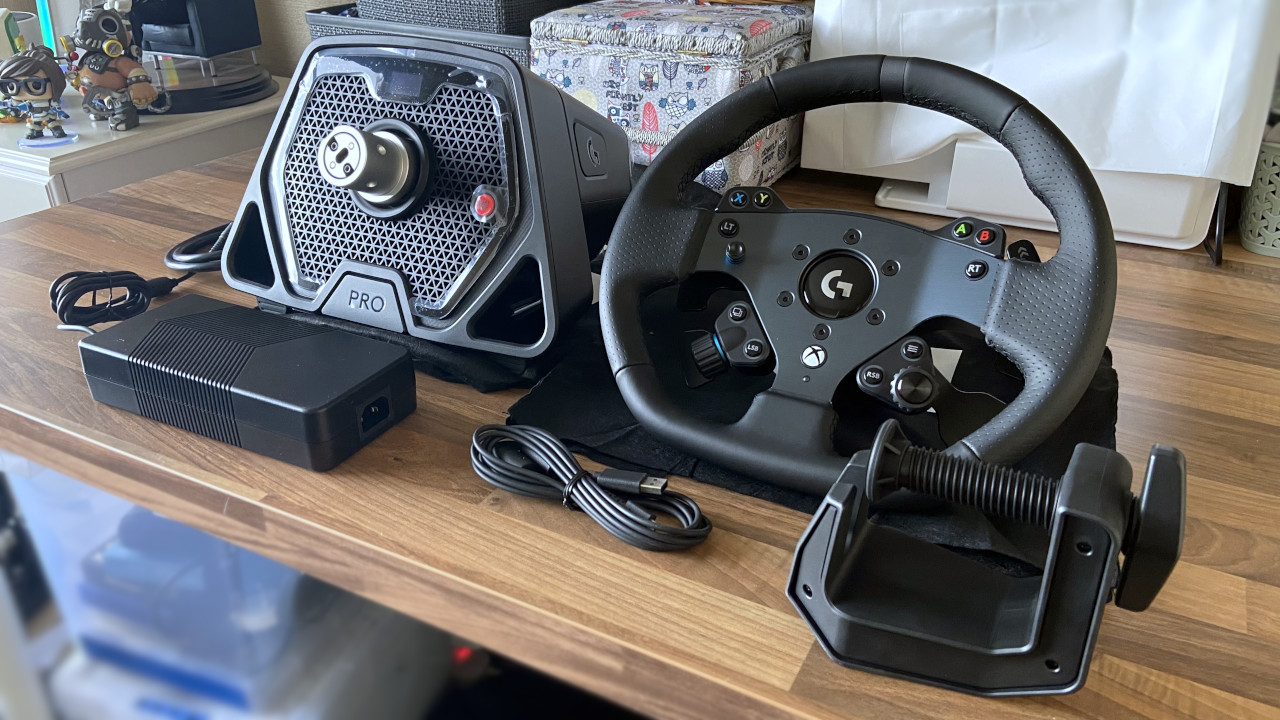 If I'm recommending the most approachable entry to a direct-drive sim racing experience, the Logitech G PRO racing wheel remains the top choice. However, the implied interchangeable Logitech G PRO rims seemingly never materialized, cursing it to stay as an all-in-one set. The other option is moving towards ultra-in-depth customization within the Fanatec range of servo bases and wheel rims, likely a closer relation to the Thrustmaster T818 in terms of pure mechanics.
The reality comes down to value for money, and though the T818 seems to be targeting a more affordable price, some critical extras need to be considered. If you were to buy the T818 base for $650, a desk mounting kit that doubles as a cockpit mount for another $50, and a spare quick-release adapter for $35 to use with a spare wheel rim, you're looking at a total of $735 before delivery charges. This assumes you already have compatible steering wheels to attach; otherwise, that's more cash to spend.
Still, the Logitech G PRO retails for a whopping $999, and even with a wheel included, that's pretty steep. You could pick up the TM leather 28 GT wheel for $180 directly from Thrustmaster, putting you at a $915 total, still lower than my choice for its primary rival. A Fanatec DD1 servo retails for $1,200 before tax and shipping, which is far beyond the realms of the T818 in terms of price and capability for up to 20Nm of torque. Thrustmaster is offering a fantastic deal to anyone already invested in its ecosystem and a decent one for those who aren't.
Thrustmaster T818: Should you buy it?
You should buy this if …
You want a versatile and affordable direct-drive servo base.
You already own accessories from the Thrustmaster ecosystem.
You have a sturdy cockpit to handle 10Nm of torque and strong FFB.
You shouldn't buy this if …
You have mobility issues or are otherwise prone to joint injuries.
You rely exclusively on a desk clamp for sim racing.
You plan to use only one wheel rim.
A direct-drive servo base has been a long-awaited entry for Thrustmaster, and they delivered pretty spectacularly with the T818. It's provided some of the smoothest sim racing I've ever experienced, with decent force feedback that outperforms previous models reliant on internal belts and hybrid motors. Although it's technically compatible with a sturdy desk, I can't recommend you use it with anything besides a sturdy cockpit; otherwise, you're missing out on the flagship features that make it one of the best steering wheelbases for PC.
Thrustmaster is pricing the T818 aggressively enough to keep it affordable. It's one of the best options for a direct-drive servo once you've paired it with a compatible wheel rim add-on, edging past its Logitech rival in that respect by offering its vast ecosystem of compatible accessories that are laughably easy to attach. However, removing the quick-release adapter is tricky, so keep a flat tool handy or pick up a spare adapter. Depending on what the manufacturer has planned for its currently unused extra ports, the T818 could eventually take my top spot as the best overall sim racing wheelbase.